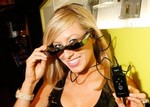 Image by Getty Images via Daylife
Author: jonah wolf
Many of us born before the digital age, often have amassed a large collection of analog media. We may also have older digital technologies that we wish to upgrade to current media standards.
Some advantages of Digitizing your media, include:
Reduction of Clutter
Centralization your various media
Ability to share with friends and family.
The ability to easily make copies.
Ready to take the digital plunge?
First thing is first, organize your media. Decide what you'd like to digitize. Take inventory and see what you are able to do on your own and what makes sense to send out to a service.
Documents- I am terrible at paper management. In order to stay organized, I scan all my bills, documents, receipts and then discard them. For light scanning, a flat bed scanner will do. For higher quantity scans, I would recommend a Scanner with a sheet feeder. Very Large scan jobs can be farmed out to a professional.
Photos- Been tempted to place your high school photos on Facebook for the 30th reunion? How about digitizing your photos? Small collections can be scanned with a flatbed or sheet feeding scanner. If you have thousands of photos, you may want to utilize the services of scanmyphotos.com for $50 they will scan 1000 of your photos and provide you with a DVD of all your photos.
Negatives and Slides- remember those? For the occasional negative scan, many flatbeds come with a slide adapter. To scan an entire collection, a slide scanner or scanning service may make more sense.
Video- we will discuss a few common video formats. Please be aware if your media is recorded in the PAL or NTSC format to insure you have the correct gear. For more information on the formats, see my article "Top Tech Tips for Olim"
VHS, VHS-C, Hi8 – These formats can easily be converted to DVD with the use of a DVD Recorder. Simply connect RCA, S-VIDEO, or other supported cable from the output of your VCR or CAMCORDER, to the input on your DVD recorder.
If you'd like to manipulate and edit your footage, there are video capture devices and software that allow you to download the footage to your computer where you can make edits and then render the file as a movie to play on your PC or on a DVD.
Digital 8, Mini-DV – These cameras are equipped with FireWire connections which allow you to download your footage to your PC or MAC, once it captured on your computer, the video can be edited and converted to a digital file for your hard drive or "Burned" to a DVD.
Records – Have an old record collection? Are/Were you a DJ with lots of vinyl?
There are specialized USB turntables that allow you to convert your records to MP3 format.
With additional hardware and software, you can mix and manipulate your music. Audacity is a free audio editing program and is a good start.
Cassettes and REEL to Reel recordings With an RCA output from the cassette player connected to the input on your sound card, you can record the cassette to a digital file. With specialized software, you can enhance the sound quality of your recordings. If you don't have inputs on your sound card, you can pick up a USB adapter.
CD'S- With programs like Itunes or widows media player, it's easy to copy your audio collection to hard disk, and access them with the computers on your network. You can also make compilation CD's for the road.
DVDS- With low cost disk space available, it is possible to backup your personal DVD collection to hard disk, where you can view them all in a central location. To backup a DVD to Hard Disk, you will need DVD Ripping software to convert the DVD to a usable format.
Note: In all the above scenarios, we are assuming you are digitizing your own material. Before making copies of any copyright media, familiarize yourself with the laws. In some cases you may be able to make a backup copy for your own use if you are the rightful owner of the media.
For those looking to digitize your family history, I recommend taking a look at
the book "Digitizing your family history."
We've gone through various media digitization options. Once you have your collection digitized, be aware that digital files do not last forever. It is important to setup a backup and security strategy for your precious data. Please see my article on "securing your data and systems." I hope this article has been helpful. Share your media conversion tips or experiences on the blog.
Finally, if you need assistance in digitizing or backing up your media feel free to contact us regarding our services.
About the Author:
Jonah Wolf Digital Consultant, MCSE for weekly tips, signup at http://groups.google.com/group/voolf
Article Source: ArticlesBase.com – Digitizing Your Media