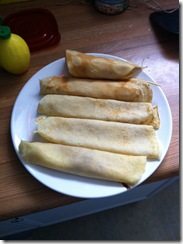 Just a personal post here.
Shrove Tuesday marks the beginning of Lent.
It's weird to see how traditions on the US/UK sides of the Atlantic differ in recognition of the day.
In the UK, Shrove Tuesday is known as 'Pancake Day'. You might know what the Brits call Pancakes as Crepes.
The idea is that for hundreds of years all certain food was emptied out of the kitchen pantry for lent (i.e Eggs, fat, grease, flour etc). The best way to get rid of all this food was to mix it together in a batter, heat it and eat it. Kind of make a cake out of it… lets call it a 'Pan Cake'.
Every year, for as long as I can remember, every Shrove Tuesday, I'd eat stacks of Pancakes with a multitude of fillings – the most common and my favorite is a spritzing of lemon juice and some sugar.
Anyone who makes crepes knows that the only way to cook both sides of said pancake is to flip it in the pan without the use of any utensils.
Yes, I can flip Pancakes.