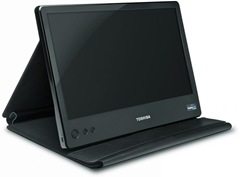 I'm a huge fan of multiple monitors – it pains me to use only one monitor when I have to. I've been spoiled by application and desktop real estate.
However, having 2 monitors on every computer that I sit down at, though it would be nice, just isn't an option – I use a few computers.
It's just possible that Toshiba might have a solution for me!
Toshiba recently released a USB powered 14 inch monitor. It's a portable, external, mobile monitor.
While it likely won't be your primary monitor it'd be good for doing all the 'extra' stuff that you need a little extra space for.
Though the monitor boasts use of just a single USB Cable for both power and video, if you need the device to be the brightest it can be you'll have to use the optional AC Adapter.
For just $199 I might have to check this one out myself!