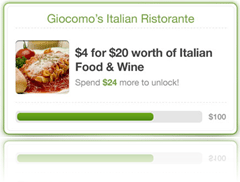 Adding another string to their bow, Groupon has launched a loyalty rewards program for businesses in an effort to keep their business customers happy.
The idea is that customers earn rewards based on how much they spend with your business.
The Groupon Rewards system apparently ties seamlessly into business systems and uses the Credit Card information on file to track spending and award rewards.
Apparently at no cost to the business (initially at least) the process would appear to be simple.
Why Card-Linked offers?  Well, instead of requiring customers to check in, enter a code, etc.  customers are automatically rewarded as long as they use the credit or debit card that is on File with Groupon.