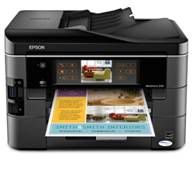 Epson, has released a new line of WorkForce Printers that are great for small or home based businesses. The WorkForce line of printers are not only fast, with up to 7.4 ppm black, but with their extra capacity print cartriages can save up to 40% on ink vs a lazer printer. This line of printers also includes a Auto Document Feeder capable of double sided printing. All printers in the lineup offer Epson Connect for fast sending of files or pictures from you phone, and offer Wi-Fi connectivity. The 845 also includes a 7.8″ touch screen panel. This line of printers also offer up to a 500 sheet input capacity so you never have to worry about running out of paper in the middle of the print job. Epson has made the WorkForce line of printers affordable for everyone from small a small business to a large business with multiple printer needs. Priced from 99.99 for the 435 to 199.99 for the 845 there is something for everyone. For all of you people who just want a home printer the 435 is priced right to give you business quality at a affordable home printer price.
Epson Expands WorkForce Line with New AIOs Delivering Superior Performance for Small Businesses Epson WorkForce® 435, 545, 645 and 845 Offer Performance and Savings to Keep Businesses Running at Full Speed LONG BEACH, Calif. – Oct. 11, 2011 – Epson America, Inc., today announced a new line of superior performing printers for small and home-based businesses – the WorkForce® 435, 545, 645 and 845.  The new all-in-ones deliver the world's fastest print speeds1 and mobile printing capabilities through Epson Connect2 to ensure easy, hassle-free printing. Each model in the series offers a range of functionality and intuitive operation at an affordable price.  The WorkForce 845 all-in-one is ideal for small businesses requiring robust functionality with a higher printing volume. The WorkForce 845 delivers one-sided print speeds of 15 ISO ppm (black) and 9.3 ISO ppm (color) and the world's fastest two-sided print speeds1 of 7.4 ISO ppm (black) and 5.4 ISO ppm color.  It also offers a 500-sheet input capacity which translates into less time spent making sure the printer has enough paper, so energy can be focused on core business functions.  It also boasts an array of high-productivity features including automatic double-sided printing, copying and a 7.8" Smart Touch panel. With the included Extra High-capacity ink cartridges, businesses will save on ink — up to 40 percent versus color lasers3.  The WorkForce 645 boasts the world's fastest one- and two-sides print speeds in its class1 with 15 ISO ppm (black) and 7.2 ISO ppm (color) one-sided, and. 7.5 ISO ppm (black) and 4.6 ISO ppm (color) two-sided. With its two-sided Auto Document Feeder, copying and scanning two-sided originals is effortless and increases productivity. The WorkForce 545 features a 250-sheet paper tray and ISO print speed of 15 ppm black, as well a 2.5" color LCD for quick and easy photo viewing and printing. The WorkForce 435 is an entry-level business all-in-one offering many of the higher-end business functionality in a fast and affordable package.Each model in the series offers mobile printing capabilities with Epson Connect2 and allow for savings over color laser printers with Epson's exclusive DURABrite® Ultra ink for smudge, water and fade resistant output. Also, each model is equipped with Wi-Fi™ n connectivity4, a 30-page automatic document feeder (ADF), and built-in memory card slots for easy file transfers.  The WorkForce 545, 645 and 845 also offer Ethernet networking as an additional mode of connectivity.
"Epson understands that small business owners don't have time or money to waste," said Robynne Lee, product manager, Epson America, Inc.  "The new WorkForce line is an ideal solution for those who expect exceptional results quickly so they can focus on what means the most to them – their business."Mobile Printing with Epson Connect The Epson WorkForce series also comes equipped with Epson Connect, a new portfolio of cloud and mobile services. Users can now print documents and photos directly to their Epson printers from any mobile device. Epson Connect offers two solutions – Email Print and Epson iPrint. Email Print allows customers to print e-mail and/or file attachments by simply sending an e-mail from their smartphone or tablet to an enabled Epson printer. The Epson iPrint App, available for free on the latest iOS- and Android-based devices, allows customers to print a wide range of content such as photos, documents and web pages by simply downloading the Epson iPrint application connecting to a wireless Epson printer. More information on Epson Connect is available at www.epson.com/connect. Pricing and AvailabilityThe Epson WorkForce 435 ($99.99) is available now at Target.  The WorkForce 545 ($129.99), WorkForce 645 ($149.99) and WorkForce 845 ($199.99) will be available in October at retailers nationwide and on Epson.com.About Epson Epson is a global imaging and innovation leader dedicated to exceeding the vision of customers worldwide through its compact, energy-saving, high-precision technologies, with a wide lineup ranging from printers and 3LCD projectors for business and the home, to electronic and crystal devices. Led by the Japan-based Seiko Epson Corporation, the Epson Group comprises nearly 75,000 employees in 100 countries around the world. Epson is proud of its ongoing contributions to the global environment and the communities in which it operates. Epson America, Inc. based in Long Beach, Calif. is Epson's regional headquarters for the U.S., Canada, and Latin America. To learn more about Epson, please visit: www.Epson.com. You may also connect with Epson America on Facebook (http://www.facebook.com/EpsonAmerica), Twitter (http://twitter.com/EpsonAmerica and http://twitter.com/EpsonEducation) and YouTube (http://www.youtube.com/EpsonTV).# # #*Estimated street price Specifications are subject to change without notice. Epson is a registered trademark, and Epson Exceed Your Vision is a registered logomark of Seiko Epson Corporation.  All other product and brand names are trademarks and/or registered trademarks of their respective companies. Epson disclaims any and all rights in these marks.  1 WorkForce 845 is fastest in its class; printing black text in default, two-sided mode, in accordance with ISO/IEC 24734. Compared to inkjet all-in-ones priced at $199 or less, as of March 2011, based on manufacturers' rated ISO speeds or independent testing; WorkForce 645 is fastest in its class; printing black text in default, single-side mode, or two-sided mode, in accordance with ISO/IEC 24734. Compared to inkjet all-in-ones priced at $149 or less, as of March 2011, based on manufacturers' rated ISO speeds or independent testing.2 See www.epson.com/connect regarding compatible devices and apps.3 Up to 40% lower printing costs compared with best-selling color laser all-in-ones prices at $499 or less, as of December 2010.  Calculation based on continuous printing with highest –capacity cartridges.  Actual savings will vary based on print task and use conditions. 4 Wi-Fi 802.11 b/g/n certified; level of performance subject to the range of the router being used.Visit www.wi-fi.org/files/11nbasics_glossary.pdf for more information.
SOURCE: EPSON
Related articles