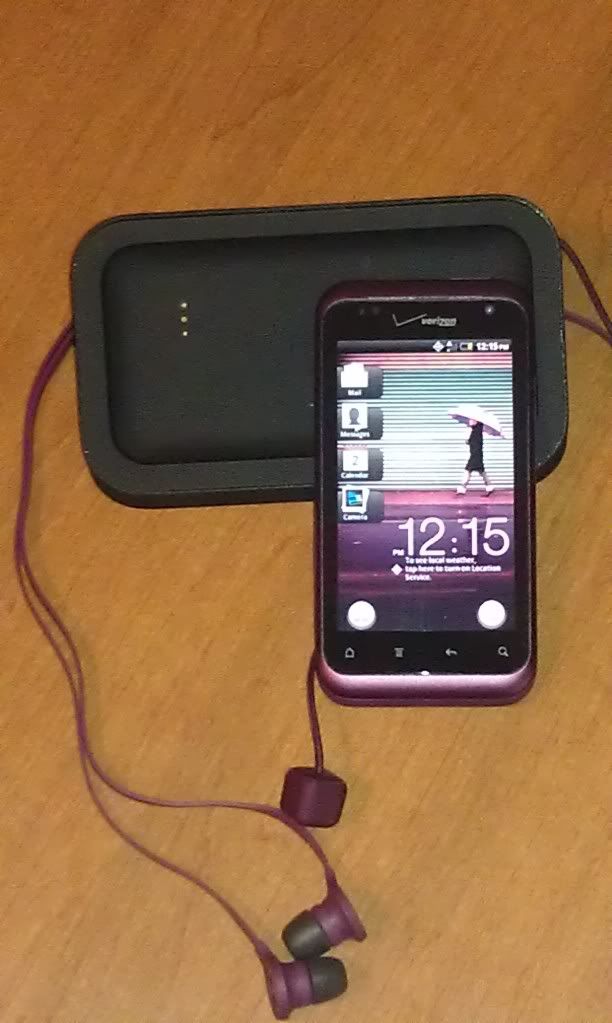 The HTC Rhyme for Verizon Wireless is the newest Android phone from HTC. The Rhyme, designed for the ladies, is a plum colored phone with a wearable purple charm that lights up when you have notifications. Also the phone comes with a charging stand and color matching tangle free headphones Sporting Sense 3.5, Android 2.3.4 and a sub $200 price range; this could just be the phone the lady in your life is looking for.
The HTC Rhyme for Verizon is a mid ranged Smartphone with a price to match. The Rhyme is a candybar shaped phone operating on Verizon 3G network. The phone feels sturdy and it feels very metallic. This is a good thing; there is no cheap plastic feeling. The front bezel is metal and has a metal strip that wraps around the back of the phone. The battery cover is plastic.
The Rhyme is powered by a single core 1GHz Qualcomm processor. The phone has 768 MB of RAM the Rhyme has a total of 4GB storage with 1GB that is usable. There is also a microSD slot that accommodates a card up to 32GB in size. The phone comes with an 8GB card pre-installed.
The screen is a 3.7" Capacitive S-LCD touch screen with mulit-touch capability. The Rhyme carries a resolution of 480 x 800 pixels. The screen features a Light sensor and Proximity sensor. In testing the screen is very crisp and clear. The response is very spot on and super reactive. Video capture on the Rhyme is good with capability of up to 720p HD video at a resolution of 1280 x 720.
The HTC Rhyme has both front and rear facing cameras. The rear facing camera is 5MP auto focus camera with auto focus and a LED flash. The camera features instant shutter for instant pictures with no delay. They is also panoramic mode that is standard on all HTC Android Phones, and Action burst scene that automatically takes 5 consecutive shots of a scene. The camera takes standard quality pictures. While using the phone nothing stood out, but there was nothing that made this camera fall behind any other phone cameras. The front camera is capable of .3 MP VGA. This camera while nothing special works well for video chat, as that's its primary function.
Battery live on the Rhyme is standard for most 3G Android Phones. The 1600mAh battery is rated for between 6 and 9 hours talk time and a standby of around 400 hours.
Some of the other standard features of the Rhyme include; Bluetooth 3.0 capability, USB 2.0 compliant with a microUSB charging/data sync port, Wi-Fi 802.11 b/g/n, Mobile Hotspot capable, Navigation with GPS and A-GPS.
The biggest thing with the HTC Rhyme is it is the first phone to feature the new HTC Sense 3.5 While not totally different from the Sense we have all become accustomed to there is new added animations. Some things such as the home screen have changed slightly on the stock home screen, but for the HTC purist who hates change you still have the standard widgets to make your home screen look like Sense 3.0
Some neat features that make this stand out are the fact that the phone includes a charging dock with the phone. It plugs into the standard microUSB plug. It gives your phone a solid base to rest on while charging and doesn't use your USB port, giving it longevity from getting worn out.
Also included is the alert charm. This is a plum colored square on the end of a plum colored cord that plugs into your headphone jack. With this charm you can set your phone to silent and still be notified of any calls or text messages. The charm will flash when you receive your message. There are setting to have the charm alert you for messages, phone calls, and visual voice mail is received. This is a neat option for people who still would like notified of calls but don't want to have a ringer or to put their phone on vibrate.
The other item included with the Rhyme is the new "tangle free" headphones from HTC. The headphones are also color matched plum and instead of a round cable these headphones have a flat wire that is suppose to not tangle. While messing with them I did find that it was much easier to keep these headphones neat and non-tangled. While I'm sure if you tried hard enough you could mess them up HTC has made it quite difficult to accomplish it. There is also media buttons on the headset.
In conclusion the HTC Rhyme is a middle of the road Android device. While there are no internal features that give the Rhyme the edge, the plum color, included charging base, and the notification charm, and that extra little something that make it stick out just a little bit above the rest of the pack.
The HTC Rhyme is available from Verizon Wireless right now for $199.99 on a new 2 year contract or $439.99 off contract.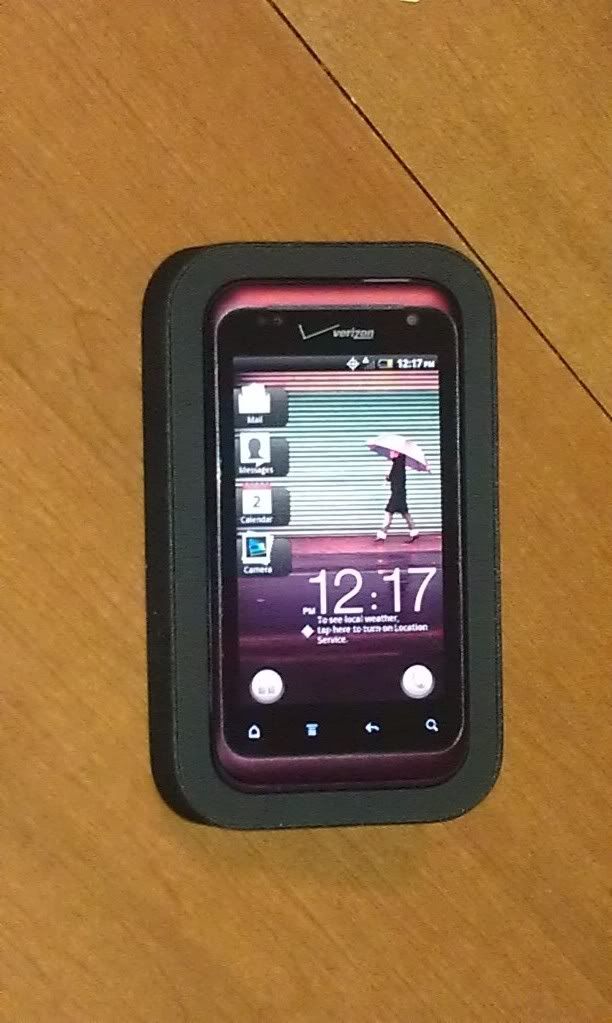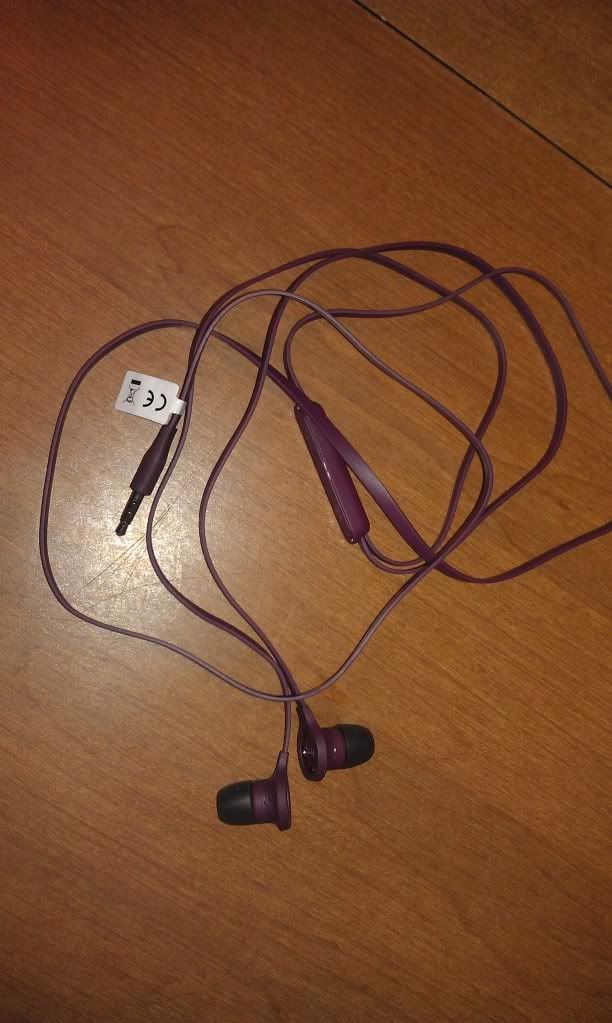 Related articles
HTC Rhyme review (engadget.com)
HTC Rhyme delayed in the UK? (somobile.co.uk)