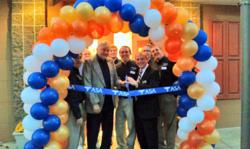 A little home-grown technology here.
It's good to see Automated Security Alert expanding here in the Pittsburgh region – more specifically Munhall. .
Automated Security Alert is a personal alarm system monitoring service.
What excites me about this more than anything is that there are real people on the other end of the phone when you need them. Also, that there are people who speak and understand the English language.
All too often do I take alarm system monitoring calls that are… let's say… outsourced.  Understanding, comprehension and language matter when seconds count.
Congratulations to Mr. Nigrelli and his staff.  May you continue to grow.
Pittsburgh-based Automated Security Alert ("ASA"), Inc. announced today that it will open its state-of-the-art call center just a few blocks from its corporate headquarters, at 3810 Main Street in Munhall, PA. The center will be staffed 24 hours-a-day, 7 days-a-week, by highly-skilled operators monitoring thousands of personal medical emergency response and medication dispensing systems placed in private homes, assisted living and nursing facilities, and hospitals throughout the Commonwealth of Pennsylvania and Northeast region of the United States. The center occupies nearly 10,000 square feet, took 24 months to design, build and equip, will eventually bring over 60 new jobs to Munhall and the greater Pittsburgh area, and will be one of the largest call centers of its kind (in its industry) in the United States.
Vincent Nigrelli, Founder and President of ASA, comments, "After 23 years of deliberate and steady growth as a company, we are finding ourselves at a point-in-time in society where more people than ever are entering retirement, and more of them than ever before are 'aging in place'–in many cases requiring specialized, dependable monitoring and monitoring solutions. To this end, time seemed of the essence to rather dramatically expand our monitoring capacity." In addition to bolstering its service capabilities, the locally owned and operated company has also enhanced its product offerings by adding telemedicine solutions to its portfolio. Thanks to regular information exchange (through telemetry), these system helps to identify if not anticipate the healthcare needs of individuals with chronic ailments, and to manage their therapies, treatments and need for appointments more successfully. "Not coincidentally", continues Nigrelli, "we chose the month of November to open, as it is nationally recognized as Family Caregivers Month. The organization behind this awareness initiative, the National Family Caregivers Association, represents the more than 65 million Americans who care for loved ones with a chronic illness, disability or the frailties of old age. We have immense respect for
these individuals, and like to think that we help caregivers as much as those they are caring for, in part by bringing them the comfort in knowing that their loved one is being monitored when they are not able to do so themselves." ASA will donate a portion of November's sales to the National Family Caregivers Association.
Automated Security Alert, Inc., has provided freedom and security since 1988 to over 60,000 consumers through the use of technology and services that enable seniors, physically-challenged persons and recovering patients to maintain an independent lifestyle in their homes. ASA's creative, dependable solutions include medical alert systems ("personal emergency response systems"); fall detection systems; and medication management systems, including electronic pill dispensers and monitored automated medication dispensers.