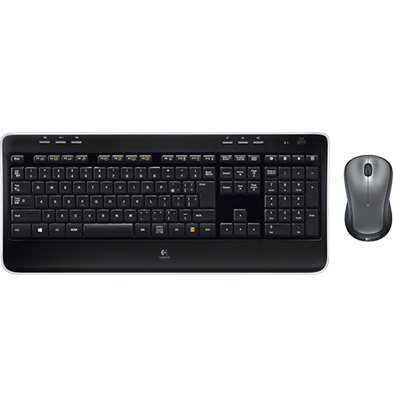 Logitech has a really nice, new, economic keyboard and mouse combo on the market.
The "Wireless Combo MK520" doesn't exactly roll off the tongue but it is rather pleasant to use.
Logitech describes is as "a sleek keyboard-and-mouse combo that puts convenience and control comfortably at your fingertips."
They're right! I sit here, tapping away on it and it is convenient and comfortable.
The wireless keyboard has rounded, low-profile keys. This looks generally better, there's less of a key press for each keystroke, making typing easier and more responsive.
Of course, like any keyboard currently sitting on store shelves, the MK520 bears the usual array of function and multimedia keys, audio volume (and mute) as well as web navigation (forwards, backwards, and favorites) keys.
The 'Palm Pal' (go on, laugh) wireless, laser mouse is compact, comfortable and pretty simple. There's no red glow underneath it, interestingly enough.
Both the keyboard and mouse connect via Bluetooth to one central receiver.  In case you need a USB extension cable for better service they've been kind enough to include one.
Set up was pretty easy.   You might have an issue with the keyboard if you need to log in to Windows though. Sometimes the keyboard isn't recognized right away (Windows 7) this making it impossible to log in. 
Find a way to log in (either another keyboard or an account without a password) and let Windows install the drivers and you'll be good to go.
According to Logitech the mouse and keyboard are so energy efficient that you had might as well forget that they have batteries.
Both the keyboard and mouse have on/off switches.
The mouse takes one AAA battery and the keyboard takes two AAA batteries. 
Batteries are included and installed – just whip out the plastic tabs and you're good to go.
A quick breeze through the (unnecessary) instructions and a quick look at the combo tells you that the MK520 was designed with mobile use in mind. Plugging in to Laptops and the like.
There is even a small space for the USB Dongle in the keyboard and mouse battery compartments so that you don't loose it when you pack it all up.
My one complaint is that the keys feel a little… cheaper… than they could. Maybe it's just the plastic. Maybe it's just me.
However, in all the MK520 is a nice, sleek, well presented combo and at about $60 it's a pretty good price too.