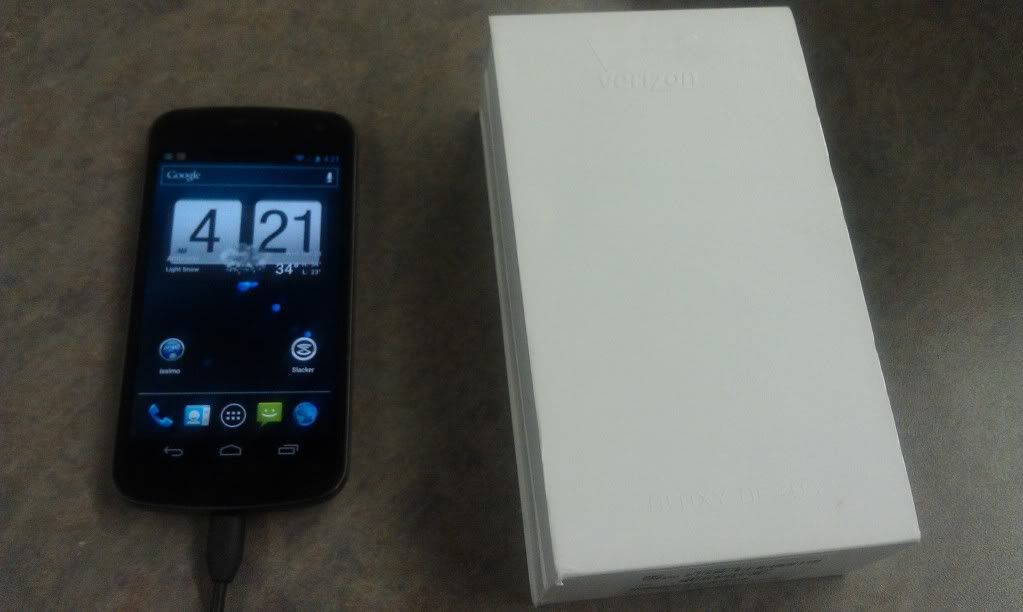 The Samsung Galaxy Nexus is the first Nexus phone for the Verizon Wireless Network. Packing 4G power and the Newest Adroid OS (Ice Cream Sandwich) this it "the phone" to have at the end of 2011. How does it fair in everyday use? Check out the review after the jump.
OVERVIEW:
The Samsung Galaxy Nexus is the newest Nexus phone to be released. The phone has a 4.65″ Super Amoled curved display that shows HD quality pictures and video's in 16.7 million collors. The Nexus is candybar shaped with a outer diamater of 135.5 x 67.94 x 8.94 mm. Signal strength is top of the line with blazing 4G speeds. With the ability to unlock your phone with facial recognition and the newest Android OS (4.0), this is not only a top of the line 4G phone but also top of it's class in the VZW lineup.
SCREEN
As stated above the screen is a whopping 4.65″. They way they designed this phone you would not know that it is that big. On past phones there has always been a noticable difference when moving from 4.0 to 4.3 and now to 4.65. With the Galaxy Nexus the phone feels no larger than any 4.3″ phone out there. In fact this phone feels smaller in your hand than the Motorola RAZR. This is great for people who want a large screen but don't want the bulkyness that usually goes along with it.
Movies and pictures are clear and crip and the bright backlight makes it easy to view even in the daylight. Netflix/Amazon Prime/Google Video    streaming works wonders on this phone with this screen. Movies are fun to watch and keep the kids busy for hours (when not using their Galaxy Tab 10.1).
Even Google Navigation is a snap to use on this phone. With the closest screen size to a stand alone GPS you can once and for all get rid of the second device.
CAMERA
The Galaxy Nexus has a 5MP auto focus rear facing camera. This phone has some of the clearest picturers you will find on a phone today. With this phone camera lag is a thing of the past. As soon as you take a picture you are ready for the next. You could almost shoot a live video with just the camera, it's that quick.
Video recording it top notch with the ability to record  up to 1080p HD at 30 frames per minute. Long gone are the days of grainy home video's from the camcorder. Once again the Nexus has replaced another device.
If video calling is your thing, you have a 1.3mp camera that is capable of decent pictures and is excellent for video chat.
BATTERY LIFE
Well, it seems like this is the one thing that never changes with these phone reviews. 4G sucks down the battery. Using the phone with mostly Wi-Fi  with moderate use, I was lucky for 8-10 hours tops. This is mostly with streaming Slacker radio. Add in video and the battery life dropped. Low data days were a good 12-14 hours. The phone comes standard with a 1750mAh battery. There is a 2100mAh battery that is available to bump that life up a little bit. Overall this is standard battery life so it should not deter anyone from buying it.
HORSEPOWER
The Galaxy Nexus is powered by a 1.2 GHz Dual Core TI OMAP processor. There is 1GB of RAM and 32 GB of system memory. This not only make for decent battery life, but for blazing fast speeds for lagless gaming. It also gives you plenty of storage space for all your pics or music or video's.
FINAL THOUGHTS
While this phone has awesome spec's and lives up to every thing a Nexus phone is, it comes with 1 trivial downside for me. It feels cheep. There is so much plastic to keep it light, it looses a "quality" feel to it. Now this is a totally personal opinion. The phone never broke, plastic never cracked, or got scratched, battery cover never snapped in half. Just my thought in what I like in a phone.
This phone lived up to every test I have for it, Blazing data speeds, superior picture quality, and a feature packed OS. For those of you looking to get into Android for the first time, this is a top of the line full featured phone that is very easy to use and learn what a pure Android experience is. For those of you coming from another device, you will not be dissappointed. It has everything you expect from your current Android phone and improves on it.
Head over to Verizon Wireless and check it out for yourself. You won't be dissappointed.
SOURCE: VZW