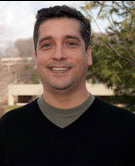 TrueFit, a leading innovation firm which helps entrepreneurial start-ups and large enterprises bring new product ideas to market, today announced the hiring of Marcello Figallo as Creative Director.
A vital member of several award-winning design teams, Figallo brings forward 17 years of award-winning design management, user experience, and user interface management experience. Figallo's creative work has served clients including: GE, Apple, Siemens, AMD, The Bank of New York Mellon, Lehman Brothers, Pearson School Systems, and PPG among other Fortune 500 companies. Figallo was tapped to lead TrueFit's efforts around user-centered design and user experience, and further advance the firm's capabilities and bandwidth in providing world-class commercial design for its clients.
Commenting on the appointment, TrueFit Founder and CEO Darrin Grove remarked, "We're thrilled to have Marcello join our team! His exceptionally clean aesthetics and creativity befit the types of products TrueFit creates for our clients. His intuition is spot-on, and his style meshes well with our values and mission. As we continue our trajectory of building world-class commercial products, Marcello's input will be of immeasurable value for our clients."
TrueFit Vice President Christopher R. Evans noted, "Having a creative hand like Marcello's at the wheel of our Idea Launch™ and Web/App Launch™ process furnishes an entirely new creative experience for our clients. His body of creative work for some of the most innovative enterprise-level corporations coupled with the passion he shares with the rest of our team for the entrepreneur is a perfect complement to our development chops. He'll build and lead a creative team with an emphasis on white-glove service for our clients. I'm particularly excited about his input on the early-stage ideation of our clients' product ideas."
Figallo remarked, "I'm excited to join the TrueFit family, and to help lead a collaborative, creative process for our clients. I've been impressed with the company's momentum and brand, and sheer volume of successful commercial product builds. The company is uniquely positioned for long-term success, and I'm looking forward to helping our clients design and develop game-changing products with remarkable user experience." Figallo marks the latest appointment in an ongoing effort to add staff in design, mobile application and web development.
Related articles