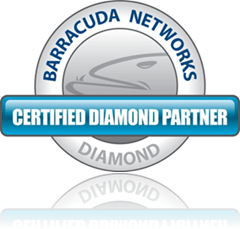 NET Xperts Enhances Partnership with Barracuda Networks by Becoming Diamond Partner
NET Xperts LLC has been accepted in the select list of Barracuda Networks Diamond Partners in 2012. As a Barracuda Diamond Partner, NET Xperts LLC has access to Barracuda Networks comprehensive range of network security solutions complemented by industry leading support. NET Xperts partners with Barracuda at the highest level to deliver powerful, easy-to-use, affordable enterprise-class protection to businesses of all sizes.
"We have had a consistently successful relationship with Barracuda Networks for over 5 years now, and
are very proud to have achieved Diamond Partner status this year. Barracuda has provided our clients
with an abundance of innovative technology solutions, and continues to be an excellent IT resource for
us, benefiting organizations large and small," Marc Sachs, President at NET Xperts LLC.
"We are pleased to add NET Xperts LLC to the list of Barracuda Networks Diamond level partners,"
said Michael Hughes, senior vice president of worldwide sales at Barracuda Networks. "The company
has demonstrated tremendous growth and support for Barracuda Networks, and we look forward to
continuing to bring our enterprise IT solutions to the marketplace."
About Barracuda Networks Inc.
Barracuda Networks combines premises-based gateways and software, virtual appliances, cloud
services, and sophisticated remote support to deliver comprehensive content and network security,
data protection and application delivery solutions. The company's expansive product portfolio includes
offerings for protection against email and Web threats as well as products that improve application
delivery and network access, message archiving, backup and data protection.
Coca-Cola, FedEx, Harvard University, IBM, L'Oreal, and Europcar are among the more than 150,000
organizations protecting their IT infrastructures with Barracuda Networks' range of affordable, easy-to-
deploy and manage solutions. Barracuda Networks is privately held with its International Headquarters
in Campbell, Calif. For more information, visit www.barracudanetworks.com.
Contact NET Xperts LLC for more information on how this can benefit your business at 412-244-NETX(6389) or visit www.thenetxperts.com.
Related articles