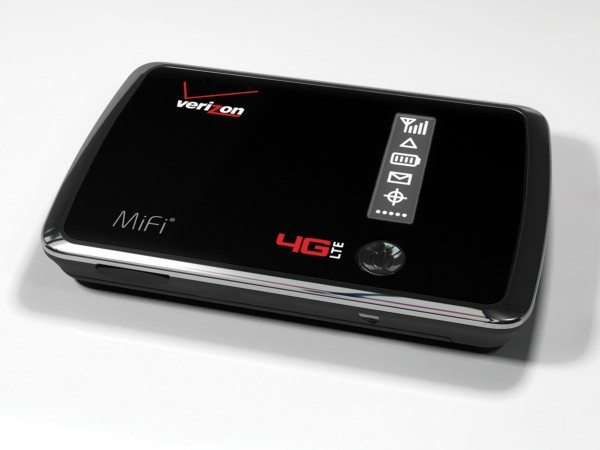 Looking for a 4G solution for your new Kindle Fire or Wi-Fi iPad or Android Tablet? Verizon has several different options for you. Today we are reviewing the Verizon Jetpack™ Mobile Hotspot MiFi® 4510L. This is one of the newer Jetpack/hotspots that Verizon Wireless offers. The Jetpack 4510L offers good battery life and blazing fast 4G LTE speeds. Could this be the option you're looking for? Keep reading to see what I have found out.
The Verizon Jetpack™ 4G LTE Mobile Hotspot MiFi® 4510L gives you 4G Internet ( backwards compatible to 3G) whether on the go or at home. The 4510L is credit card shaped and has a removable battery door and removable battery. There is a small screen on the front that gives you information such as signal strength, and battery life. The Jetpack is black with a silver bezel and a silver power button.
BATTERY
The battery on the 4510L is going to be the weak sport for any 4G device right now. The stock battery was good for 3-4 hours depending on what you are streaming and how hard you are hitting the data. To help save on your battery the Jetpack has an auto off feature that turns the hotspot off after 30 min of idle time. If you need more battery life than that, you may want to either keep a charger with you at all times, or buy an extended battery.
PERFORMANCE
The 4510L can keep you up to date with blazing fast data speeds and the ability to connect up to 5 devices via Wi-Fi at a time. Speeds can range from 5-12 Mbps download and 2-5 Mbps upload. I averaged 10-15 Mbps down and 3 Mbps up during my testing. If you don't have a good signal, there is a plug to add an external antenna.
CONCLUSION
The Verizon Jetpack™ 4G LTE Mobile Hotspot MiFi® 4510L is an excellent choice if you are in the market for a mobile hot spot this is an excellent choice. There is the ability to upgrade to a larger battery, external antenna jack, 4G LTE data with backwards compliance to 3G. There is a screen to show you signal strength and battery percentages ( in increments of 25%) so you never have to guess on your battery status. Another bonus is if your shy about signing contracts, you can purchase the 4510L at full retail for $269.99 USD and pay month to month. Also you can get the Jetpack free with a new 2 year contract and data plan.
SPECS PER VZW
Features
4G LTE Mobile Broadband and Mobile Broadband capable
LTE: Typical download speeds of 5–12 Mbps and upload speeds of 2–5 Mbps.
Connect up to 5 Wi–Fi® enabled devices at one time
VZAccess® Manager is not required or supported
Chipset: MDM9600
4G SIM Card compatible
Slim, Compact size
Integrated External Status Display
User–Friendly Web UI: No Software to install
High performance internal antenna
Multi–color service state LED
External Antenna Connector (External antenna sold separately)
VPN Capability
Auto–Connect
Global Data roaming is set to ON by default
Technology Bands
CDMA 1xEV–DO Rev.A/Rev.0: 800/1900 MHz
4G LTE (700MHz)
System Requirements
Wi–Fi 802.11 b/g/n
Internet Browser, Windows® 7, Vista, and XP; Mac OS® X 10.4.0 or higher and Linux®
One Type–A USB port–For s/w updates ONLY
Specifications
Dimensions: H x W x D Size: 3.74″ x 2.36 x 0.53 in
Weight: 3 oz. (85g)
Battery Times: Usage–Up to 5hrs; Auto Shutoff with 30–minute timer on by default
SAR: 1.457 W/kg
Related articles