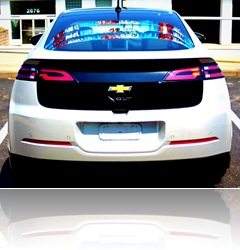 There has been a whole lot of hype over the past year or two about the Chevrolet Volt.  Some of the hype has been good, some not so much.
I've taken it upon myself to figure out why the Volt is such a controversial vehicle and whether it deserves its press.
Why?  well, the Volt appears to be a geeky, gadgety dream.  Perfect for this site!
Hopefully this will be the first in a number of Volt themed posts.
After hooking up with Chevrolet a couple of weeks ago they organized a visit to a local dealer for me to take a look at the Volt. My first visit left me… well… uninspired – with Chevy, with the dealer and in particular with the Volt (more on that later).
However, often one to give second chances I took Chevy up on their offer to take another look at another dealer.
I took a ride out to Rohrich Chevrolet here in Pittsburgh this morning to speak to the staff and take a good look at the Volt for myself.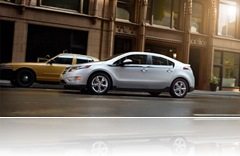 So, what is the Chevrolet Volt? what is the hype all about?
Well,  the Volt is, on the face of it, essentially a "Plug-in hybrid" vehicle. Meaning that it has an electric (Lithium ion) battery – well, a number of lithium batteries – as well as a gasoline engine.
The battery pack is the primary 'power' (pun intended) for the vehicle and will get you about 35 miles then the gasoline seamlessly kicks in and draws from the 9.something gallon tank to drive the vehicle further.
In all you can, apparently, get about 375 miles on a full tank (and charge) – or over 90 miles to the gallon.
This is pretty impressive by anyone's standards.
Sounds good, right? where's the catch?   Well, the price, first of all.   The MSRP for a Volt is "as low as" $31,000 which is kind of expensive at a glance. A showroom model with a few bells, whistles and leather interior  currently sells at more than $45,000 – significantly more than it's gas only brethren.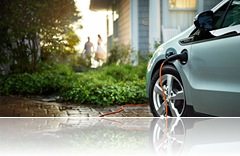 You'll save money at the pump there's no doubt about that.  The volt costs, on average, about $1.50 per day to charge – $1.50 for about 35 miles isn't bad at all.  You can't get on a Port Authority bus for that!
So – eat the $30K – $40K and save long term… very long term.
My first thought was that, given $40,000 I'd rather a brand new Chevrolet Cruz at about $20,000 and I'd spend $25,000 on filling up my tank for…. well…. a very, very long time.
Until I sat in one. Until I spoke to Scott at Rohrich. Until I ignored the hype and actually thought about it.   Read on.
Think about a lease though.   Without getting into the specifics you can lease a Volt for about $350 per month.   If you spend $150 – $200 at the pump every month then your car payment has just dropped to $200 – $250 per month which isn't bad at all for this caliber of vehicle.
The leasing company even takes care of your Government and State tax incentives ($7,500 or more depending on where you live) and takes that off the cost for you.
In around 1829 the first Public Railway was built in North-East England. Naysayers claimed that the Human head would explode if it traveled at more than a whopping 15 miles per hour. I'm pretty sure tickets were expensive too.
That Volt has been bashed by 'pundits', the public, and everyone else because they don't know it. They haven't thought about it. I'd say they haven't even sat in it.
Yes, Chevrolet is a General Motors (GM) company, they've received US Government money and are known as a "Government Car Company". This alone makes certain people bitter about anything to do with them.   I'm sure this is where a certain amount of the negative press is coming from.
What can you do about that though?  Pretty much nothing at all. Move on.
"Chevy Volts catch on fire!" I hear you proclaim.  Correct – so can your Land Rover, Microwave and TV Remote.  In fact, anything catches fire under the right conditions. It's called Pyrolysis.   With a little research you'll find that there have been 2 instances of Volts catching fire. I believe one was intentional and the other under overly extreme testing conditions – where any vehicle currently on the market would have done the same.
Like anything else, under proper working conditions the Volt shouldn't spontaneously just burst into flames.
"What about the Battery?"  ok, true, the battery pack is a big unknown right now. However, The warranty on the Volt is 8 years or 100,000 miles.  This is a long time and a long way to not have to worry about the Battery pack.  If you get 8 years out of a vehicle, any vehicle right now, you're doing well.
Consider how far you drive on a daily basis and how long your car sits around for in your driveway.   about 35 miles a day? 8-10 hours over night? Then the Volt will work for you.    You might find that it'd work for you and quite a few people you know.
Like I said – hopefully this will be the first in a series of Chevy Volt related posts – there should be more next week.  There's much, much more to the car than this 700 word post can carry.
What do you think?  Drop your questions in here – hopefully I can answer a few for you.
Learn more about the Chevrolet Volt here
Check out the friendly people at Rohrich Chevrolet here
Related articles