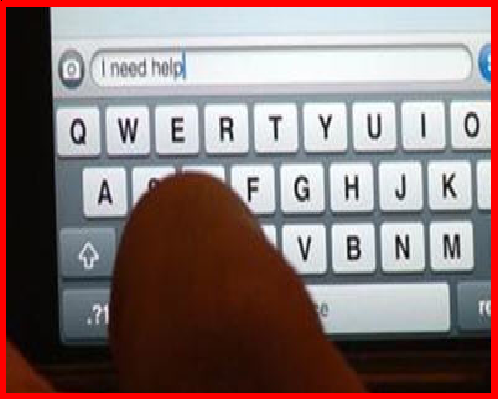 According to an article published in PC Mag this year, 88% of adult Americans own a cell phone. We take them everywhere. Whether it's a smart phone, or a basic feature phone, our lives revolve around them. Usually we use them to talk to friends, send a text, make plans for our night out, or surf the web. Occasionally the phone may be used to call 911 in an emergency to save your life or that of a complete stranger. But what happens if you are kidnapped, car jacked, or just held against your will? You can't call for help because the captor may hear either you or the dispatcher talking.
Verizon along with TeleCommunication Systems have joined forces to help bring Text to 911 to fruition. Expanding on the E-911 or Enhanced 911 Services, this joint venture will help Verizon customers send an emergency text to 911. While not always the most efficient method of contacting Emergency Services, this could be an essential method for those in trouble that can not verbally communicate their problems, possibly due to a physical or mental handicap, or a life threatening situation where a perpetrator may be near the person in trouble.
With this joint venture, they hope to have select PSAP's (Public Safety Answering Point) up and running with this new capability by early 2013. As you will see in the press release below and I as a Public Safety Telecommunicator must stress that the best method of reaching Emergency Services will almost always be to dial 911 and speak to a trained Telecommunicator. While Text to 911 will play a vital role is some situations, it is not something that should be used on a regular basis to contact Emergency Personel. There are things in that can be lost in text messaging such as, tone of voice, background noise, extended amount of time to get vital information, and a delay in getting the information to the Police, Fire, and Emergency Medical Service Providers.
This is the first step in what will no doubt lead to such things as being able to send pictures of accidents, and even pre-recorded or live video directly to Dispatchers and Public Safety Officals to give them a better idea of what they are getting into. The future of Public Safety is here and Verizon and TeleCommunications Systems Inc. are leading the way.
Press Release Below:
BASKING RIDGE, NJ — Demonstrating its continued commitment to advancing public safety, Verizon Wireless is taking steps toward offering many of its customers a new way to communicate with 911 call centers run by public safety officials. The company announced today that it has selected TeleCommunication Systems Inc., of Annapolis, Md., to participate in an initiative that will enable customers to send 911 SMS (Short Message Service) texts to the call centers, which are known as public-service answering points, or PSAPs.
While consumers should always first try to contact a 911 center by making a voice call, this enhanced SMS service, when deployed, will offer an alternative for customers on the Verizon Wireless network who are deaf or hard of hearing and cannot make voice calls or who could be placed in additional danger by speaking.
"Verizon is at the forefront of 911 public-safety innovations, and today's announcement is another step in making SMS-to-911 service available to those who cannot make a voice call to 911," said Marjorie Hsu, Verizon Wireless vice president of technology. "Our company is continuing its long-standing commitment to address the needs of public safety and our customers by offering another way to get help in an emergency by using wireless technology."
The company is working on plans to make the new capabilities available to select PSAPs by early 2013. Verizon plans to use its existing CDMA SMS network for 911 text notifications. The new service will be offered to Verizon Wireless customers who have a text-capable phone and a service plan that includes text messaging.
"TeleCommunication Systems has worked closely with the FCC over the past two years to develop its innovative technology for SMS to 911," said Maurice B. Tosé, president and CEO of TCS. "As the preeminent U.S. supplier of SMS and pioneer in wireless E911, TCS is well positioned to enable Verizon in advancing its public safety commitment."
Verizon is working with others in the communications industry, PSAPs, the Federal Communications Commission and other federal and state agencies in the eventual deployment of this new service aimed at giving consumers new ways to communicate with designated public safety agencies.
Verizon Communications Inc. (NYSE, Nasdaq: VZ), headquartered in New York, is a global leader in delivering broadband and other wireless and wireline communications services to consumer, business, government and wholesale customers. Verizon Wireless operates America's most reliable wireless network, with 93 million retail customers nationwide. Verizon also provides converged communications, information and entertainment services over America's most advanced fiber-optic network, and delivers integrated business solutions to customers in more than 150 countries, including all of the Fortune 500. A Dow 30 company with $111 billion in 2011 revenues, Verizon employs a diverse workforce of nearly 192,000. For more information, visit www.verizon.com.
VERIZON'S ONLINE NEWS CENTER: Verizon news releases, executive speeches and biographies, media contacts, high-quality video and images, and other information are available at Verizon's News Center on the World Wide Web at www.verizon.com/news. To receive news releases by email, visit the News Center and register for customized automatic delivery of Verizon news releases.
TeleCommunication Systems, Inc. (TCS) (NASDAQ: TSYS) is a world leader in highly reliable and secure mobile communication technology. TCS infrastructure forms the foundation for market leading solutions in E9-1-1, text messaging, commercial location and deployable wireless communications. TCS is at the forefront of new mobile cloud computing services providing wireless applications for navigation, hyper-local search, asset tracking, social applications and telematics. Millions of consumers around the world use TCS wireless apps as a fundamental part of their daily lives. Government agencies utilize TCS' cyber security expertise, professional services, and highly secure deployable satellite solutions for mission-critical communications. Headquartered in Annapolis, MD, TCS maintains technical, service and sales offices around the world. To learn more about emerging and innovative wireless technologies, visit www.telecomsys.com
VIA VERIZON WIRELESS MIDWEST BLOG
Author:
Ben Oaks
Ben is a 911 Telecomunicator and a tech nut. Ben was born and raised in the Greater Pittsburgh Area. He reviews Verizon Wireless products for Techburgh.com and is the owner of Cerebral-Overload.com. His hope is to bring you the reviews you want to give you an informed decision on products you may be looking into.