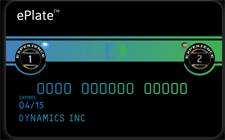 Dynamics' ePlate system will enable developers to offer rewards to loyal customers.
Local tech startup and Council member, Dynamics Inc. continues to make headlines by turning the credit card industry on its head. The company's latest payment innovation, ePlate, revolves around enabling the developer of a product to offer loyalty rewards to returning customers.
Read more about Dynamics ePlate technology on VentureBeat.