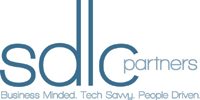 SDLC Partners L.P. is pleased to announce that Katherine Waltz joined the organization on March 19, 2012 as the Director of Talent and Organization Development. Katherine will be responsible for talent planning, leadership and organizational development, cultural advancements, and overall leadership of the Human Resource function.
SDLC's three principal partners—Chris Simchick, Scott Barnyak, and Christy Maruca—are excited about her decision to join the leadership team and support the firm's overall growth strategy. "We identified the need for Strategic HR Leadership as a core element of support for our growth initiatives.  As we execute our rolling three year strategy having someone with Katherine's experience and capabilities will enhance our ability to accomplish our company objectives.  In a few short weeks, Katherine has already added value by organizing and aligning support strategies for our rapidly expanding Practice Areas" said Chris Simchick.  Added Maruca…. "This is just another important step in demonstrating our commitment to investing in our employees and the company. Her expertise brings the dimensions of HR experience that is needed to support our recent growth and continue to build the foundation for our future."
Katherine brings over 10 years of experience in the areas of performance management, talent, organization, leadership development, talent acquisition, benefits, compensation, and strategic business partnership. Her most recent role as the Associate Director of HR was at H.J. Heinz Company. Prior to her position at Heinz, Katherine spent 5 years at Frito-Lay, Inc. Katherine also has experience supporting corporate and field supply chain, sales, finance, IT, legal, strategy, and investor relations work groups. One of SDLC Partners core values is the growth and development of their employees. Katherine's strategic goals and leadership skills will help pave the way for continued success in the evolution of the firm.