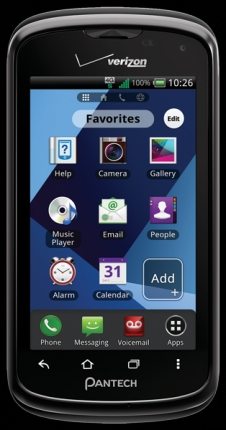 Does your kid keep begging you for a new Android phone cause all of his friends have them, but you can't see yourself spending that kind of money for a full featured 4G phone for your child? You're in luck, Verizon is now offering the Pantech Marauder 4G phone for $50 with a new 2 year agreement. Check out my review below to see if this is a good fit for you or your child.
SCREEN:
The Pantech Marauder has a 3.8in Capacitive LCD Touch Screen. The resolution is 400 x 800 with a pixel density of 246. While this isn't a top of the line phone in terms of stats, but make no mistake about it, this is a decent screen. Picture is clear and all text and icons are easy to read. The screen only supports 260 thousand colors as opposed to some other new phones that can display millions. Touch screen was responsive with no lag. Videos are great to watch and YouTube works well for all the video's you or your kids may want to view. There is no doubt that this screen would make your kids happy as a back to school present.
CAMERA:
The camera on the Pantech is of the 5MP variety and capable of shooting 720p HD Video. There is also a front facing camera that is a .3 MP. The camera does have auto focus and the ability to geo-tag the pictures. The surprising thing about this phone is the fact that there is no flash. This camera still works very well for daylight shots, but not good for dark or night shots.
BATTERY LIFE:
Pantech packed a 1620 mAh in here for a decent battery life. I have been averaging 6-9 hours with medium to moderate use. Most of my use was done over Wi-Fi. I used 4G a good bit for streaming music while on the road.
UNDER THE HOOD:
The Pantech Maurader is powered by a Dual-core 1.2 GHz processor. This keeps the phone flying with no lag at all. There is 1 GB of RAM and 4GB of internal storage to get you started. There is a microSD slot that is good for up to 32GB of external memory. Unfortunately this phone doesn't come with a memory card pre-installed. Luckily you can pick these cards up cheap nowadays. There is also a full slide out QWERTY keyboard for. Running on slightly modified version of Android 4.0 this is a phone that will make Android purists happy and make it easy for someone new to Android to navigate around. The Marauder also supports Blue-tooth 4.0 for excellent data transmission while saving battery life.
FINAL THOUGHTS:
For those of you that are looking for a phone with the top of the line spec's, this phone isn't for you. If you want an Android phone that works, and works well, you have found your phone. This is a great little phone for not only the first time Android person, but for the frugal one also. With a dual core processor you get all the power and speed you need for a rock bottom price. Also for those of you that aren't ready to move to a strictly touch screen phone, the full QWERTY slide out keypad hits the spot. Check out the Pantech Marauder now from Verizon Wireless for only $49.99 with a new 2 year agreement.
Check out Verizon Wireless for the deal for the Pantech Marauder for just $49.99 now.