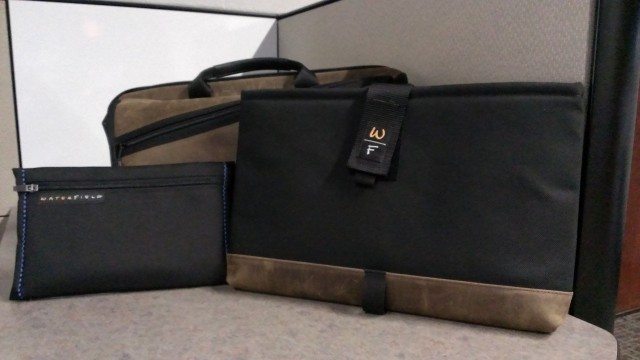 So for Christmas you got your laptop with a nice little sleeve to store it in. Now you realize you need something bigger to carry the laptop, charging cable, wireless mouse, touchpad, or anything else you may need for use with your laptop. You are going to need something that can give you the room you need while withstanding the rigors of everyday life. Waterfield Designs  has their American Made Cargo Bag. This bag comes in three sizes and gives you plenty of room to carry your laptop and give you room for other items too. Made with quality high quality leather, durable nylon, protective neoprene, and YKK zippers, this case will last you as long if not longer that the laptop it's protecting. Check out my full review below to see just how well this case holds up.
The Cargo Bag from WaterField designs comes in Small, Medium, and Large. The Large bags come with or without an internal stiffiiner. You also have a choice of 5 different colors for the flap and top of the bag, or choose between 5 different types of leather. These options let you personalize the bag to you, not just a stock laptop bag you can buy off the shelf at your local big box store. The Cargo also comes with carrying handles and an adjustable shoulder strap that has a removable shoulder pad for comfortable carrying. There is a flap that covers the front pocket that is held secure with a paragliding buckle. We are using the Large Cargo Mambo Combo.
Lets start from the front of the bag and work our way to the back.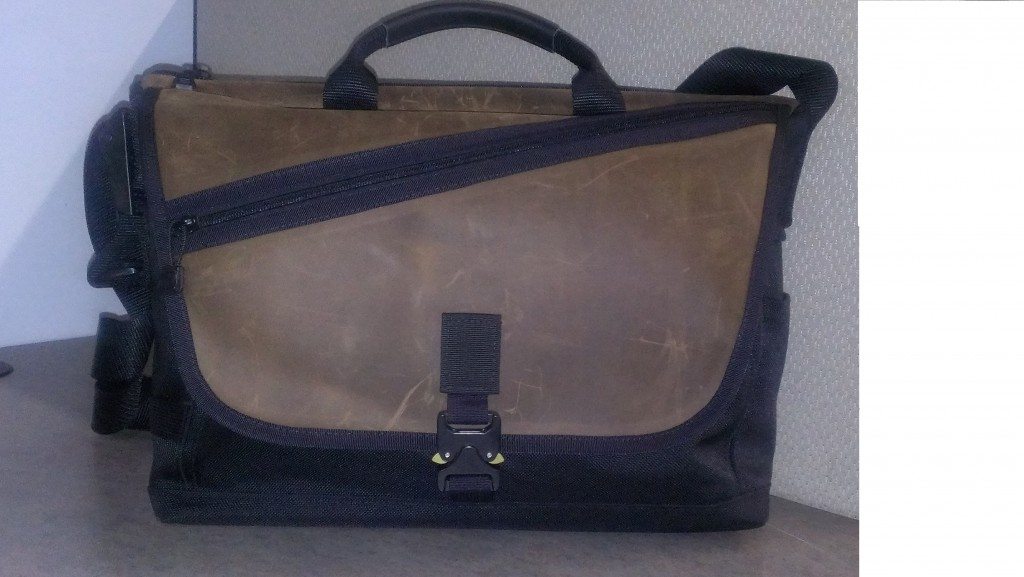 First we have the front flap with Paraglider Clasp. There is a zippered pocket that is good for some thin items or even a magazine or two.  The flap is in the color or style of leather you choose. The Paraglider Clasp that is on the front is very easy to use. Just compress the two brass tabs on the side and it unlatches with little effort.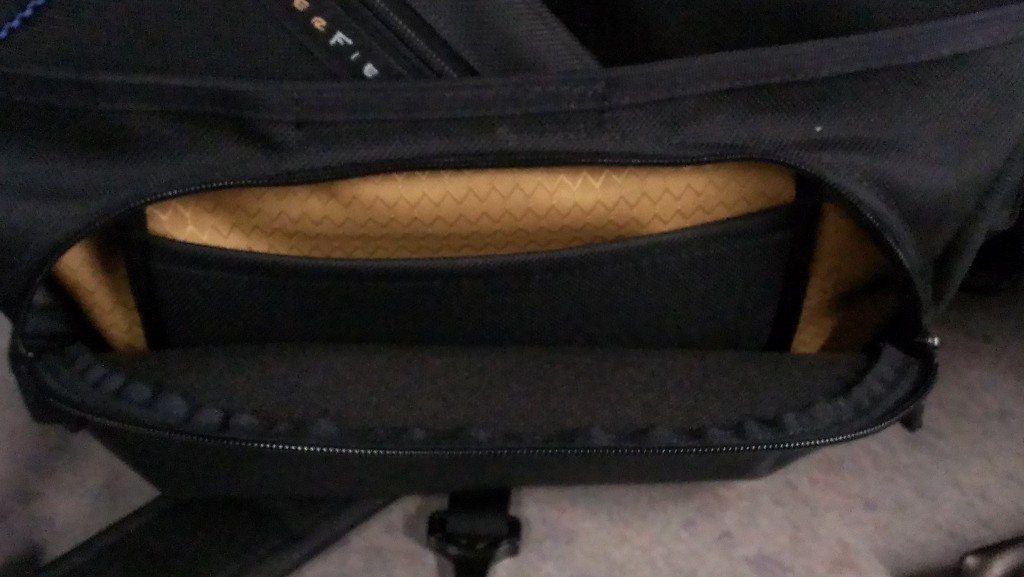 Flip open the flap and we have our first zippered pocket. This pocket is large enough for tablets and other electronics of that size. The zipper also has a double pull on it so you always have a pull in easy reach. Inside this pocket is an open pouch that is large enough to store pencils, pens, erasers, or other such items you may want with easy access.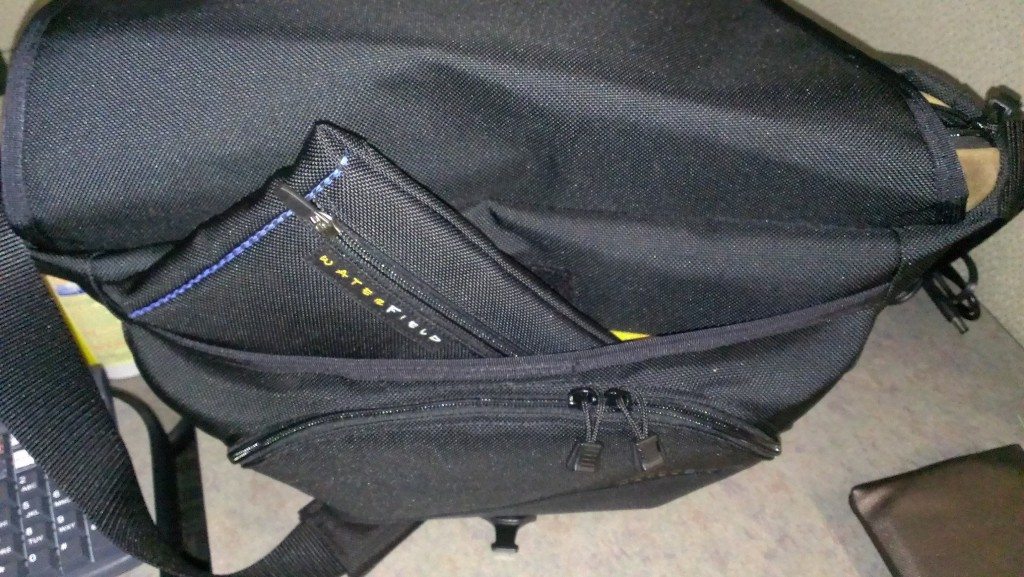 Behind that the is another pocket that has a velcro strip on the top to hold the pocket close. The edging on the top of the pocket also has a slight elasticity to it to help contain any items placed inside.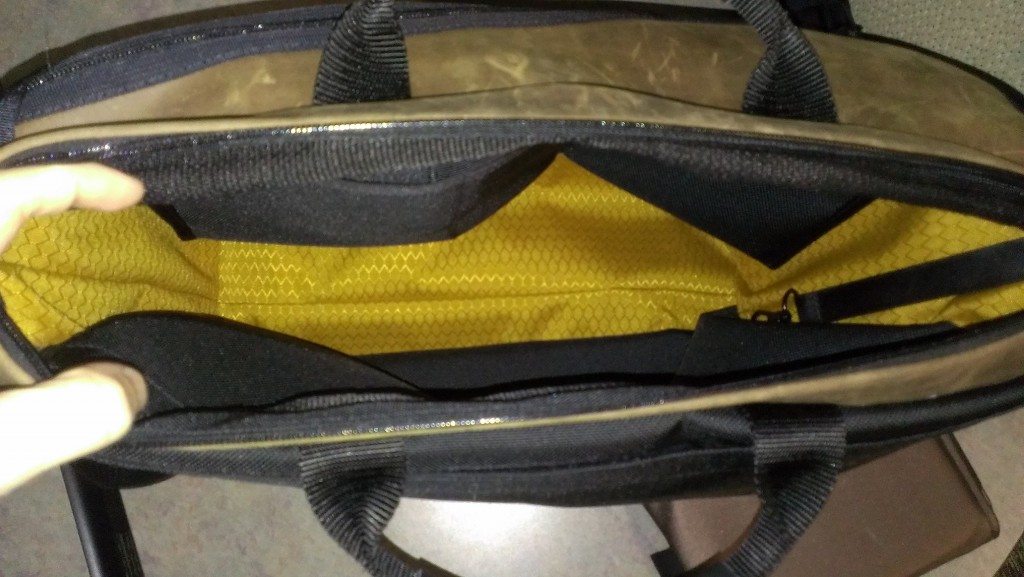 Now to the main compartment. The center of the main compartment is set up for your laptop.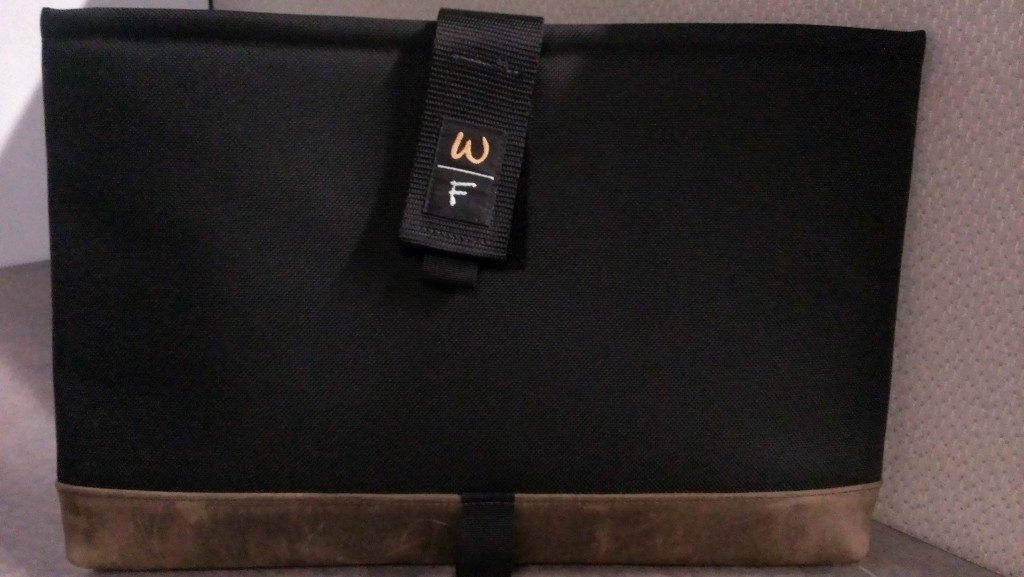 With the Mambo Combo that we are reviewing, we also got a matching laptop sleep. The sleeve has a leather base to match our front flap of the bag. There is a pocket on the front of the sleeve good for sliding in flash drives, CD's or even a sheet or two of paper. There is a nylon web strap that goes over the top to keep your laptop in place. The strap is secured with velcro. The laptop sleeve is lined with neoprene to keep your laptop scratch free. When ordering the Mumbo Combo you are asked to give WaterField Designs the make and model of your laptop, along with screen size so you get the right sleeve the first time.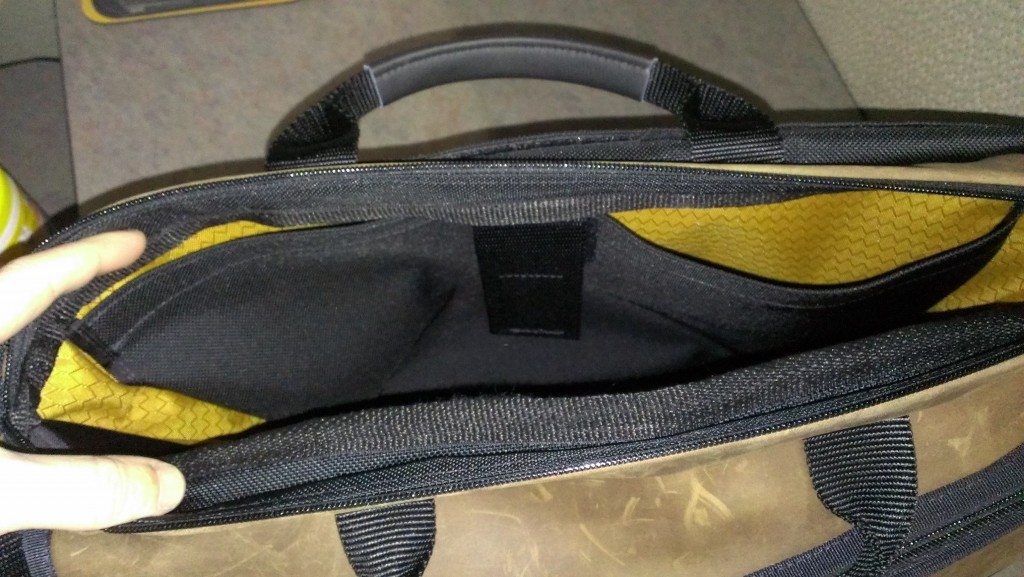 On the front and back sides of the main compartment, there are pockets. On one side is a large pocket that is as wide and as tall as the main compartment itself. There is a nylon strap across the top to hold in the contents. This strap is also secured by velcro.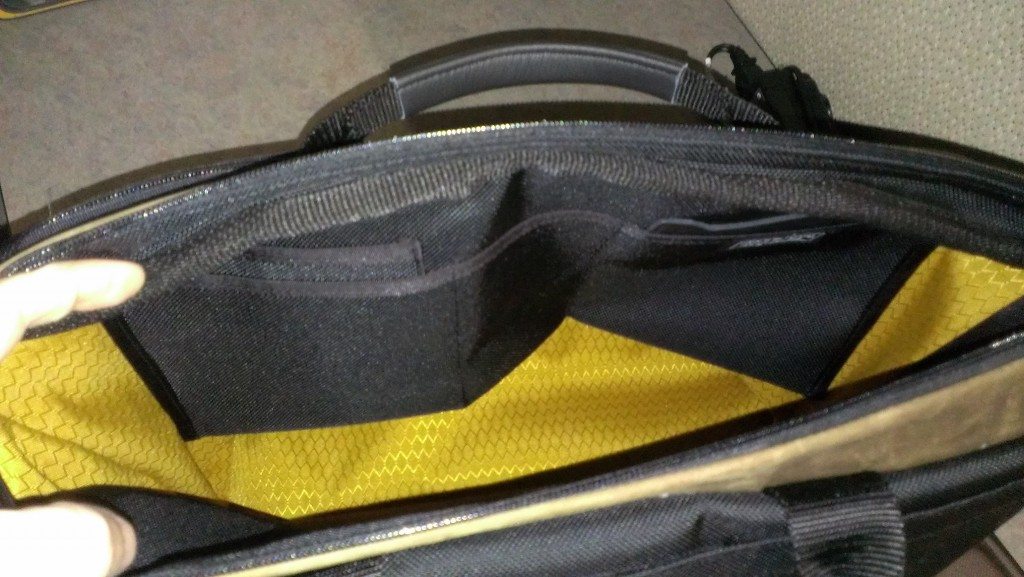 The other side is split into 3 separate compartments that are about half as tall as the middle compartment.  Within two of these pockets there is another pocket. I have found that all these pockets are good for my phones, charging cables, and also portable charging packs. One of the pockets is leather that is a perfect size to put your business cards in for easy access.  In the main compartment there is also a strap with a clasp at the end that is good for hooking your key ring too that will keep your keys secure inside your Cargo Bag.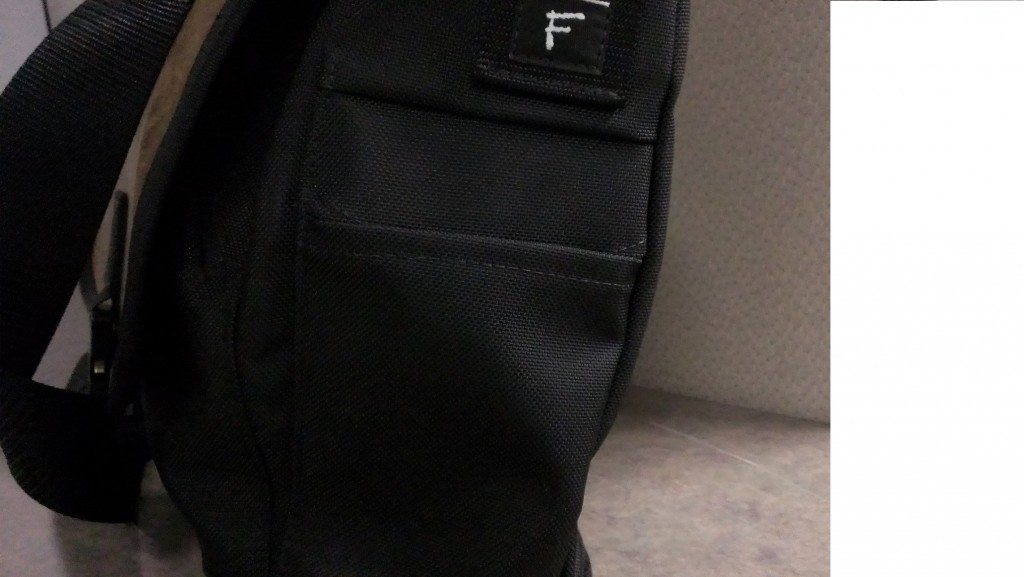 On the right side of the WaterField Designs Cargo Bag there is a small pocket that is good for cell phones if you need quick access, or you could put pens or pencils there if you use them often. On the left side is a nylon strap that is used to secure the shoulder strap if you choose no to use it or if you would like the strap shorter.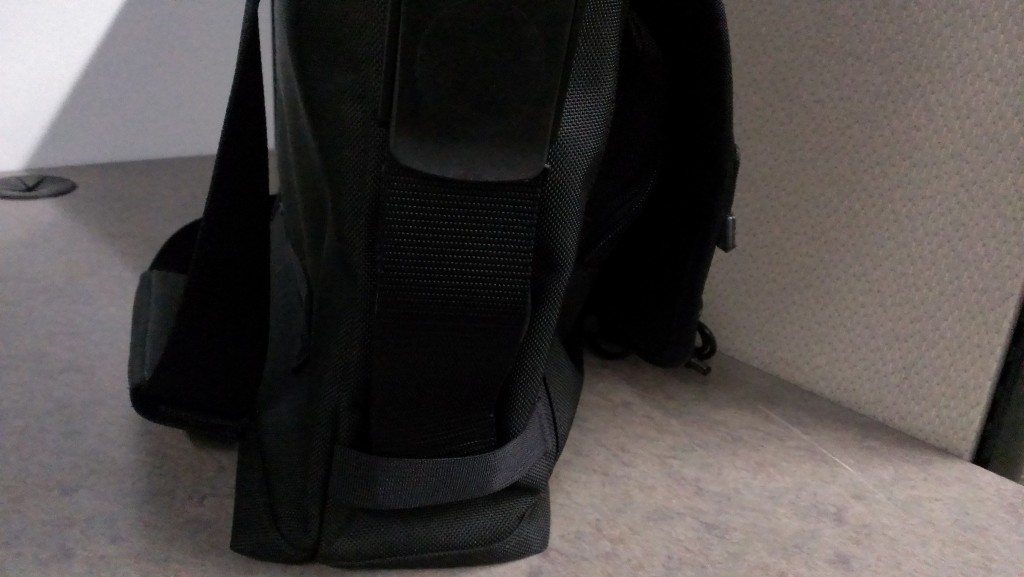 The back of the Cargo bag is one last pocket. It is as wide as the bag and is secured with a velcro strip across the top. This pocket also has a zipper across the bottom that would work well for those of your travelers that have wheeled luggage. You can slide the case over your handle and then you can pull your luggage and your WaterField Designs Cargo Bag all in one, instead of having the Cargo Bag over your shoulder.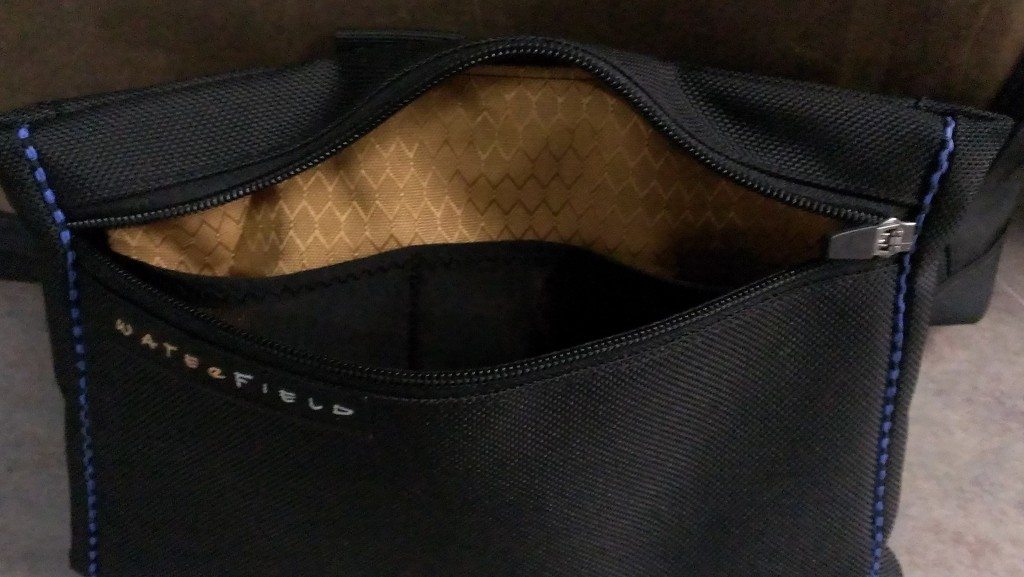 The Mambo Combo also comes with your choice of either a Medium Cableguy Pouch or a Medium Gear Pouch. We opted for the Cableguy Pouch with blue trim. This  pouch is double-sided with zippered pockets on both sides. Inside the pouch on both sides are one big compartment and two smaller compartments made out of a stretch fabric. I have found these compartments good for holding cables ( henceforth the name of the pouch), phones, and also battery packs and power chargers.
The WaterField Designs Cargo Bag is a quality bag that is made in the United States. As I stated above this is a quality made product that should and will last you a long, long time. The price for the cargo bag will vary depending on the size and options you choose. The Large Cargo Bag Mumbo Combo as tested is  $309.00 plus shipping. Yes, you are correct this is a good bit of money. Just remember, A. This bag is made in the USA. You are helping keep jobs here in the United States. B. You get awesome customer service that you wouldn't get if you buy a bag from a big box store. C. This bag is made with high quality leather and nylon and will last a lot longer and provide better protection that most cases you can find in a big box store.
Be sure to check WaterField Designs for this bag and all the other cases they make for multiple devices such Tablets, Laptops, SmartPhones, Kindles, and even Portable Gaming Systems.