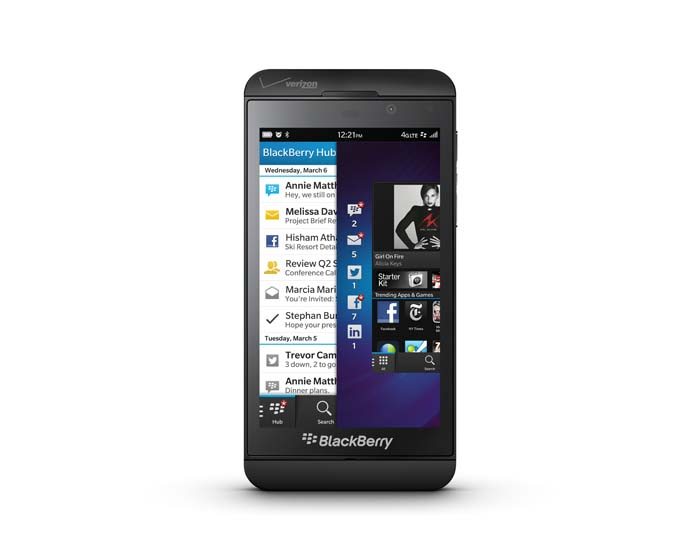 Smartphones are personal and a source for communication. That's why having choices about which phone fits your mobile lifestyle needs and style preferences is important.
The new BlackBerry® 10 platform includes the BlackBerry® Hub, a center for communication that streamlines all of a user's messages, and a keyboard that adapts to their style. Verizon Wireless plans to offer the BlackBerry® Z10 smartphone and the BlackBerry® Q10, two global-ready 4G LTE smartphones running BlackBerry 10, providing customers with another 4G LTE smartphone from which to choose. The BlackBerry Z10 will be available for $199.99 with a new two year customer agreement in Black and White color models, with the White model being exclusive to Verizon Wireless.
A challenge for many users is managing multiple inboxes including text messages, personal e-mails and social media accounts. BlackBerry Hub helps organize the incoming messages, so users can view and participate in conversations as they happen. Finger gestures on the screen let users easily 'peek' into the Hub from any screen, keeping conversations flowing.
The keyboard is no longer just about tapping letters on a screen. It's about how it adjusts to a user's typing style, whether it's a rapid or a one-handed typist. It's about the keyboard understanding what the user wants to say and creating personalized prediction and contextual auto-corrections. BlackBerry Calendar is another feature that understands and adapts to how the smartphone is used. Every time a new appointment or meeting is created, the calendar predicts and suggests who should be invited.
BlackBerry® Messenger (BBM™) users will be able to take advantage of 4G LTE to enjoy innovative BBM video chatting with screen sharing. Co-workers can screen share and review documents and presentations, and friends can chat about things like recent vacations, sharing pictures and video to make it a richer exchange.
Employee-owned devices are a reality in today's mobile world. Business users will be able to take advantage of BlackBerry Enterprise Service 10 and use features like BlackBerry® Balance™, which separates and secures work emails, apps and content without compromising the personal experience. Personal apps and data are kept separately so once the work day is done, you can easily switch the phone's persona to "personal."