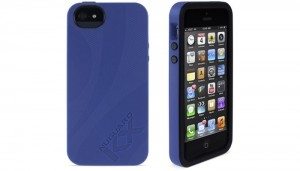 For review we have the NuGuard KX Kenetic Energy X-Orbing Case By NewerTechnology. This case surrounds your phone in a layer of hard plastic and a soft energy absorbing material to not only protect your iPhone from scratches but also from drops. Lets take a look at our hands on and also a nice little video demonstration from NewerTech on how well their case actually protects from drops.
Lets see what NewerTech has to say about their case:
Unlike common military-impact test grade iPhone® case materials, the NuGuard KX uses state-of-the-art X-Orbing gel technology to absorb and evenly distribute kinetic energy. This revolutionary technology is then engineered into an effective one-piece design that's available in eight attractive color combinations.

The NuGuard KX has been Mil-Spec drop test certified by Quanta Laboratories to MIL-STD-810G U.S. Military Standard for elite protection. Yet, the KX only measures slightly over 1/2″ thick (including phone) so it can still easily fit in your pocket.

Its Edge Guard over-molding provides enhanced iPhone screen edge protection without interfering with edge-to-edge touch finger accessibility to ensure hassle-free touch keyboarding and ability to drag and organize app icons from screen to screen.

With its precision cutouts, the NuGuard KX allows for full access to all of the iPhone's ports and buttons. The KX features a unique cross hatch texture design on backside for added grip that won't make it hard to remove from pockets like other texturized cases. And installation and removal of your iPhone from the KX is easy, taking only seconds.
The NuGuard KX is a mil-spec case that adheres to Military Spec MIL-STD-810G U.S. The inside of the case is lined with a soft energy X-Orbing material that is made in the USA. The use of this gel in the case helps to take the shock away from the phone when dropped onto hard surfaces such as concrete and asphalt. The X-Orbing material lines the back and all four sides for maximum protection.
The outside of the case is a semi-rigid plastic that has a slight texture to it. This keeps the plastic from being slick and making it easier to grip. The back of the case also has a cross hatch texture to increase your ability to hold onto your phone without any unforseen drops. The case is available in Roulette Red, Darkness, Midnight, Eagle Shield, Trooper, Buzz, Rose and Nubar Forest.
The case is one piece with the X-Orbing material permanently imbedded into the lining of the case. This makes for an easy install onto your phone.
The plastic lip that holds the phone securely into the case is just enough that you don't have to worry about the phone coming loose without interfering with the operation of the touch screen from edge to edge.
Cutouts are included for the headphone jack, speakers, charging port, camera, and mute slider. The power and volume buttons are mounted into the case and don't give a click sound or feel when pressing them. This took some getting used to as I would look at the phone multiple times to make sure I had actually hit the power or volume buttons.
Overall this is a great case that is easy to install and provides great drop protection as is evidence by the video at the end of this review. Price is $35.00 and available from Other World Computing. The NuGuard KX is available for both the iPhone 4/4s and 5.
The case comes with a 30-Day Money Back Guarentee and also a Limited Lifetime Warranty
Click HERE for images