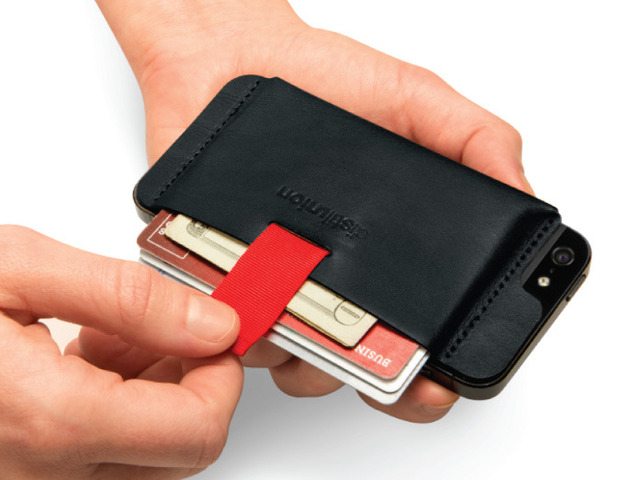 Wally is a slim, stick-on leather pocket who secretly and securely carries your must-haves on the back of your iPhone 4 or 5.
Launched: Jan 31, 2013
Funding ends: Mar 1, 2013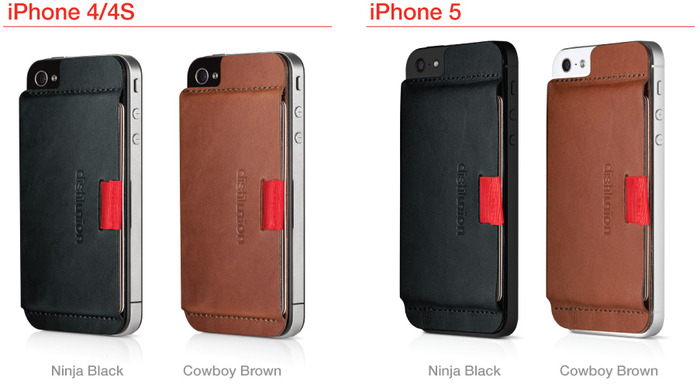 Wally isn't yet another wallet case, but rather a handcrafted leather pocket that grabs onto the back of your iPhone to secretly and securely hold what you need to have close at hand. He's the handsome grab-and-go solution.

Now instead of a bulky case or a wallet with an iPhone pocket, Wally clings directly to the back of your iPhone with micro-suction. This high-tech material gives Wally a grip like a gentleman: strong and secure, without leaving behind any tackiness. Micro-suction is awesome for naked iPhones, but adheres to glossy or slick cases only — which is why we want to includeAlternahesive not just for the backers who request it, but for EVERY BACKER! Read more in UPDATE #4: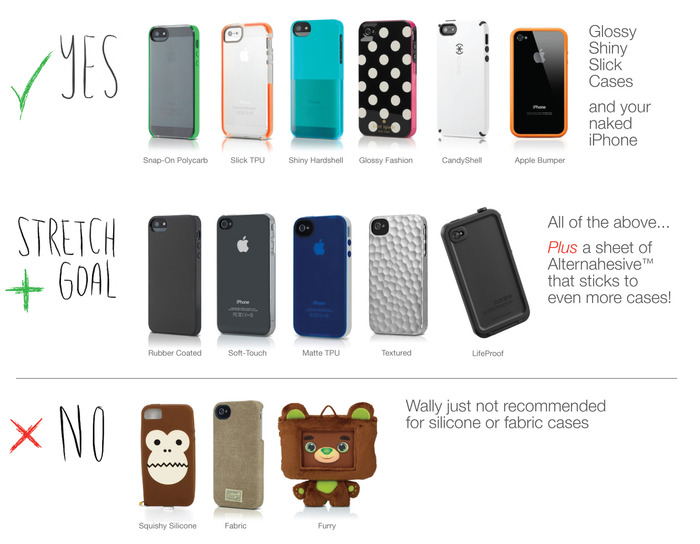 Have you hacked together a way to carry cards with your iPhone? Or maybe you bought a wallet/case thingy but it limits your iPhone access? We hear you… So we literally went back to the drawing board and crafted a totally new way to carry the essentials:
Slim Accommodates the 3 cards you carry most
Smart Micro-suction securely attaches without being sticky
Discreet Pull-tab action conceals your contents
Handcrafted Made in the USA with premium Italian leather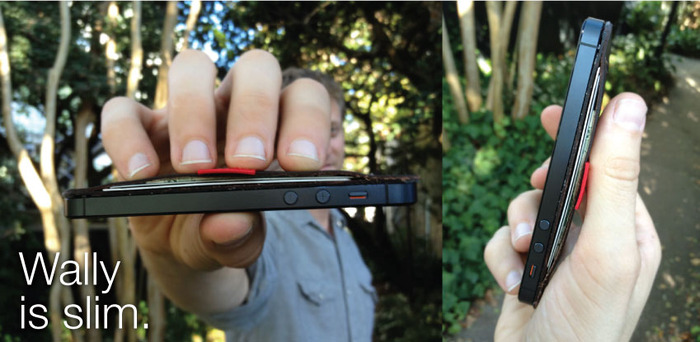 iPhone, camera, cards and ID or cash – all combined and ready to go. Our leather craftsman in Florida, Tim Kennedy, has been a great collaborator in getting the construction as thin as possible, while comfortably accommodating up to 3 cards (PRO TIP: use apps like Lemon to handle the rest). Of course, you can still carry a Costanza wallet and let Wally hold what you use the most – business cards, cash, metro card – right where you want it, and out of sight until you need it.
_____________________________________________________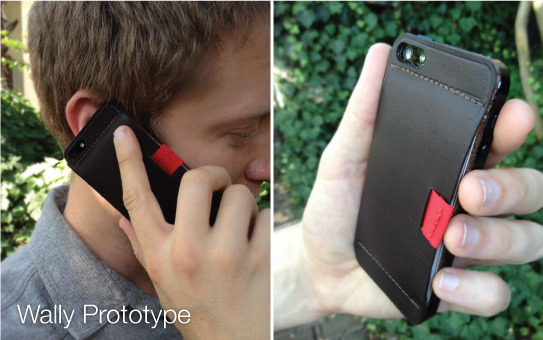 Instead of holding a wallet up to your ear, just hold your iPhone. Crafted using premium, vegetable-tanned leather from Tuscany, Wally feels marvelous to the touch and wears beautifully over time, just like your favorite leather wallet. Luckily, Wally just looks like a handsome leather iPhone skin.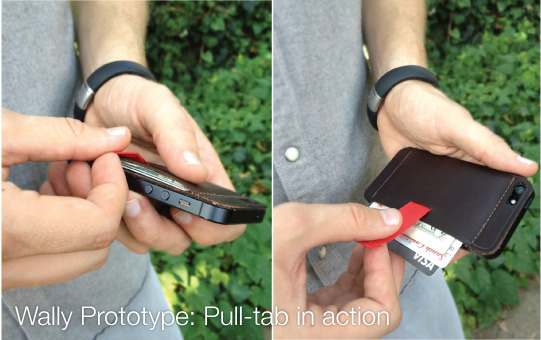 Instead of advertising the contents of your wallet, Wally keeps your cards and cash hidden. Access your stash simply by pulling on Wally's integrated pull-tab; pushing your cards back in retracts the tab.


This Kickstarter edition is limited to only 100 of each Wally: Ninja Blackor Cowboy Brown, custom made either for iPhone 5 or iPhone 4/4S (photos of each Wally on our website). Simply select the Wally reward you want, and that's what you'll receive. We have everything we need to make Wally, but need your help to go into production. Wally will be:
Made with premium Italian leather in the US
Of the highest quality and craftsmanship
The slimmest grab-and-go solution for iPhone
You can help by pledging or sharing Wally with friends. If Wally's not your type but you like what we're trying to do, we could use your help to get the word out! Funding is all or nothing: If you have a moment, please help us reach our goal by sharing on Facebook, Twitter, Pinterest, Instagram, Reddit, on your blog, at the coffee shop, in line at the club (are you sure you couldn't use a Wally?)…

Wally is a relatively easy to manufacture product. We've done a pilot run with the actual materials so we can run tests to minimize surprises and work out the kinks. We are seeking the funding needed to cover the cost of the dies, leather, micro-suction material, and Made-in-the-USA manufacturing. Our goal amount is the break-even cost of our first production run (plus the Kickstarter and Amazon fees, as much as 10%). We've set a realistic goal to cover the costs to launch a product that we truly feel is great! We've loved using our Wallys and want to share 'em with you!
Our Experience:
We have many years of experience in creating iPhone and iPod accessories for brands like DLO and Philips. We have many reliable contacts in the industry. Check out a small fraction of what we've done over on our website –http://www.distilunion.com/pages/pastfolio
As for Kickstarter experience, we learned a lot on our successful campaign for Snooze, the alarm dock with big snooze bar for iPhone.
http://www.distilunion.com/snooze
The biggest lesson: Don't promise things that are beyond your control. The only thing not in our control with Wally (aside from the US Postal Service) is the manufacturing; though we're confident in Tim to deliver, we've limited our risk by lining up backup craftsmen. If we must switch gears and go with another leatherworker, Wally will be delayed – but not more than a month because our run is such a small number.
Thanks for reading all of this! Or skimming it. Or scrolling to the bottom to see what the last word is. We'd do the same thing.