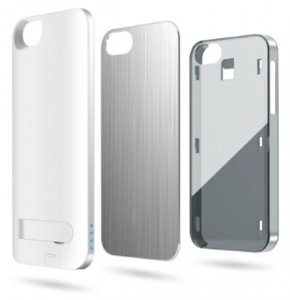 Miami – February 26, 2013 –
 Apple accessories manufacturer iKit launched NuCharge onKickstarter today – the first iPhone 5 case to offer an interchangeable battery pack and case cover in a single, slim case. Users have the option to sport an aluminum or leather case cover in a variety of Pantone colors or swap it out for a 1900 mAh battery pack in either black or white.

NuCharge consists of a snap-on case designed to stay on at all times featuring built-in grooves that connect to either a fashionable case cover or a battery pack, interchangeable whenever the user desires.
The slim, lightweight design fits easily into pockets and provides instant, unobstructed access to the Lightning, microphone, speaker and camera ports, allowing users to listen to headphones, sync directly using their cable and listen to the phone's speakers without having to remove the case. The integrated Lightning connector is made from strong TPE material offering durability without compromising the slim design, and an integrated kickstand has been added to offer landscape and portrait viewing.

The fashionable case covers will be offered in a variety of different Pantone colors and styles, available in either aluminum or leather finishes, with additional options to be tentatively announced later in the campaign.

The 1900 mAh battery features unique technology to prevent overheating during use, while doubling iPhone 5 battery life and extending talk/web time up to 8 hours. LED indicators on the side panel indicate the amount of battery life remaining.

NuCharge cases will come in a variety of color options including a clear or tinted base case, a white or black battery pack, as well as a variety of Pantone-colored case covers.
Support the iKit NuCharge by pledging your contribution on Kickstarter. Pledges start at $59 for a NuCharge with a single Pantone case cover and go upwards to $89 for a limited time chrome edition, with options to accessorize with different color case covers for $9 each. All pledges are offered at discounted rates from the projected retail, and NuCharge cases will begin shipping in early April 2013.

About iKit®
iKit is a licensed Apple accessory brand, designs and manufactures accessories . iKit strives to deliver premium quality accessories at the most affordable price. To learn more about iKit visitwww.iKit.com and follow iKit on Facebook (www.facebook.com/ikit) and on Twitter @ikitdotcom.

###