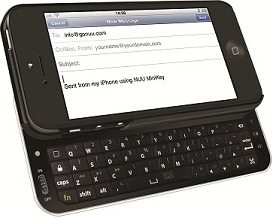 Rochester, Minn, March 6, 2013 – NUU, a mobile accessories company dedicated to improving functionality through innovative products, unveils the MiniKey for iPhone 5, a slide-out Bluetooth keyboard case that enhances productivity for iPhone power users.
The MiniKey for iPhone 5 is based on the acclaimed iPhone 4 model, adopting similar features such as a backlit keyboard, full 42-key keypad, slightly raised frame to protect the iPhone 5 screen from scratches and special function keys to quickly and easily edit text.  It enhances the previous design through a thinner and lighter frame, on/off switch, ergonomic buttons, quick-charge ability and improved Bluetooth 2.0 connectivity.
Designed for all users, from the business executive to the avid texter, the MiniKey for iPhone 5 features a snap-in design that securely hugs the iPhone 5 while allowing access to all controls, ports and camera.
"The iPhone 5 is a major communications hub in our lives, and while typos and auto-correct mistakes can be amusing and entertaining, it can also create embarrassing and costly situations," said Danny Sit, CEO of NUU.  "The MiniKey eliminates mistakes by adding a full keyboard and allows users to take back their screen."
Features:
Ergonomic Keys – tilted buttons for improved typing experience
On/Off Backlit Keys – improves typing in the dark
Rubberized Finish – improves grip and comfort
Shortcut Keys – quickly and easily edit text
Built-in rechargeable battery – charges using micro USB connector
Bluetooth V2.0 – improved battery life
FCC/CE/C-Tick/BQB Certified – universal compatibility
Compact and ultra-light design
NUU MiniKey for iPhone 5 is currently available for $59 at Amazon.com, goNUU.com and through Noetic Inc.  For more information on NUU MiniKey and their entire line of consumer solutions, contact PR representative Pedro Chen at 305-374-4404 x139 or via e-mail atPedroChen@maxborgesagency.com.     
###
About NUU
NUU is a team of designers, engineers and visionaries dedicated to improve the functionality of the iPhone and iPad through innovative products.  NUU's goal is to design, manufacture and deliver high quality, easy to use solutions focused on user convenience by answering iPhone and iPad users' everyday needs.