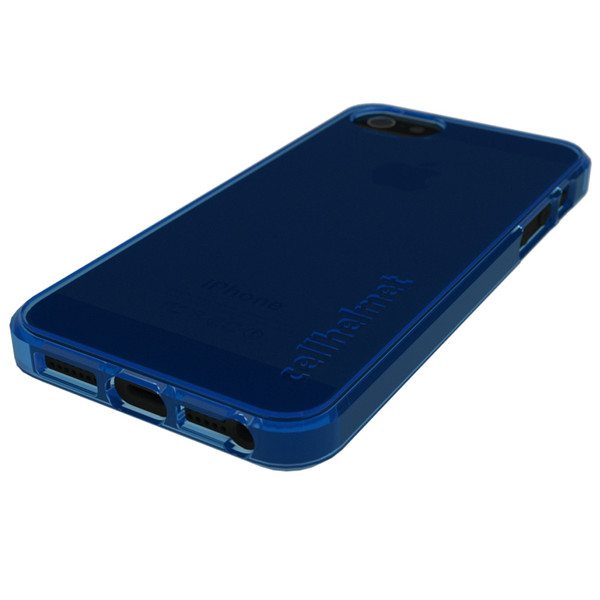 Today we have the  cellhelmet case by Kane and McHenry Enterprises. This case is not only slim, but American made, and offers a 1 year warranty on your phone. If that doesn't pique your interest I don't know what will.  Keep reading to find out about the cellhelmet case and their appearance on TV tonight.
The cellhelmet case is made of a semi-flexible plastic that is strong enough to handle life's bumps and bruises. The case, while having a smooth exterior, is not slick and the phone feels secure in your hands. The cell helmet doesn't feel like it is something that could easily fall out of your hands.
This case covers all sides, the back, and wraps around the front corners to help protect your screen from drops. The case features openings for the mute slider, volume keys, headphone jack, power port, camera,  and speakers. The power button is built into the case and made from the same material as the case.
Included in the packaging you receive a registration card that has a code on it to register you case on their website. The card also features a toll-free number to call 24/7 if your case is damaged. Also the card includes the warranty information and limitations.
All you need to do is scratch off the code, go to cellhelmet.com and register your case with the provided code, and you are good to go.
The cellhelmet case comes in 8 transparent colors and the iPhone 5 case costs $49.95. Take the cost of the case plus the $50 deductible if you damage your phone and you are still far ahead of the $600+ cost for a new iPhone.
Kane and McHenry Enterprises, makers of the cellhelmet case are based in Pittsburgh PA. The have come up with one big options that makes this case stand out over all of the other cases I have reviewed thus far. They offer 1 year of accidental damage coverage for your device (this excludes water damage)*.  According to their website and case packaging, it doesn't matter whether you got your iPhone 5 new or used, or have it jailbroken, the will repair or replace it. This covers the glass, ports, buttons, frame, and motherboard. You get this with no monthly fee, and a small $50 handling fee when you report the damage. This coverage gives you unlimited repairs and one replacement. Note that the coverage is good for 1 year and you must register your case within 30 days of purchase.
The cellhelmet case for iPhone 5 is built well, comes in 8 colors, and features a 1 year warranty. The cellhelmet case should be a no brainer for anyone who owns an iPhone 5. Check out cellhelmet.com for not only cases for the iPhone 5 but also for the iPhone 4/4S, iPodTouch  4th Gen, and iPod Touch 5th Gen. They also offer screen protectors for 12 different devices.
On a side note, make sure you check out ABC's Shark Tank tonight at 9/8 Central  and see the guys from cellhelmet pitch this awesome case to Mark, Lori, Barbara, Robert, Daymond, and Kevin and see how they do.
Want to get a $10 rebate on your cellhelmet? Use THIS LINK to purchase your case and you will get an email with a conformation and rebate information.
**cellhelmet cases are not indestructible and should be handled with care. Reckless behavior may result in a damaged device. All claims are subject to a $50 handling fee. The following is not covered: water damage, scratched aluminum, manufacturer defects, faulty operating systems, personalized data, such as contact lists, photos, video and music downloads and customized software, such as personal information, screen savers and software applications. It is the responsibility of the customer to backup all information prior to submitting for repair. cellhelmet covers physical damages to the device only. Consult the manufacturer for malfunctioning operating systems. cellhelmet coverage will last one year from date of original purchase. Must be a resident of the United States or Canada to be eligible for cellhelmet coverage. cellhelmet may be purchased outside of the United States or Canada, but will include no accidental damage coverage. cellhelmet coverage must be registered within 30 days of purchase, by the customer, at www.cellhelmet.com/Register. Failure to register cellhelmet within 30 days of purchase will void all coverage. Replacement devices may be refurbished. We reserve the right to deny any damage claim. Damages assessed as abuse will be denied. Costs associated with shipping a device in for repair/replacement are the responsibility of the customer. Damages resulting in 'repair only' are unlimited. Devices that are deemed beyond repair will be replaced – limit one replacement. All coverage is void after a replacement device is issued. cellhelmet cannot be returned after the registration code has been revealed. All returns must go through the store where cellhelmet was purchased. cellhelmet coverage is non-transferrable and can only be tied to one device. cellhelmet is not to be purchased for the repair/replacement of a previously damaged device. We recommend backing up all data before sending a device in for repair – we are not responsible for lost data. Passcodes must be turned off prior to repair, in order to verify the device and test functionality. Damaged devices will not be returned, when a replacement device is issued. Some repairs may void the manufacturer's warranty. Find detailed Terms and Conditions at www.cellhelmet.com. Questions? Contact us at 412-610-0692 or via contact@cellhelmet.com. cellhelmet is a registered trademark of Kane and McHenry Enterprises, LLC. All other trademarks are the property of their respective owners – NO ASSOCIATION IS CLAIMED. © 2012 Kane and McHenry Enterprises, LLC – All Rights Reserved.