The Dream
Our backpack idea came from our friends and collegues.  We had friends using our TYLT portable batteries and they all said they carried the batteries in their backpacks and loved them.  We thought we could make a cool backpack that had a larger battery and could charge smartphones and tablets in specially made pockets.  We also wanted to make sure you could charge while you used your phone on the go.  We took our ideas to Axis Design in Austin Texas.  They gathered the best ideas and features available on today's backpacks and we even created a few of our own.
If we build it..
After we spent a month finalizing the design from Axis Design we started our search for a factory to build the product.  Our expertise is in batteries so we flew to China to meet with factories that made backpacks.  It took us a while but we found the perfect factory in North China.  Three rounds of samples and two more trips and we have our final sample which is ready for production. We hope with your help we will be able to fund the first round of production.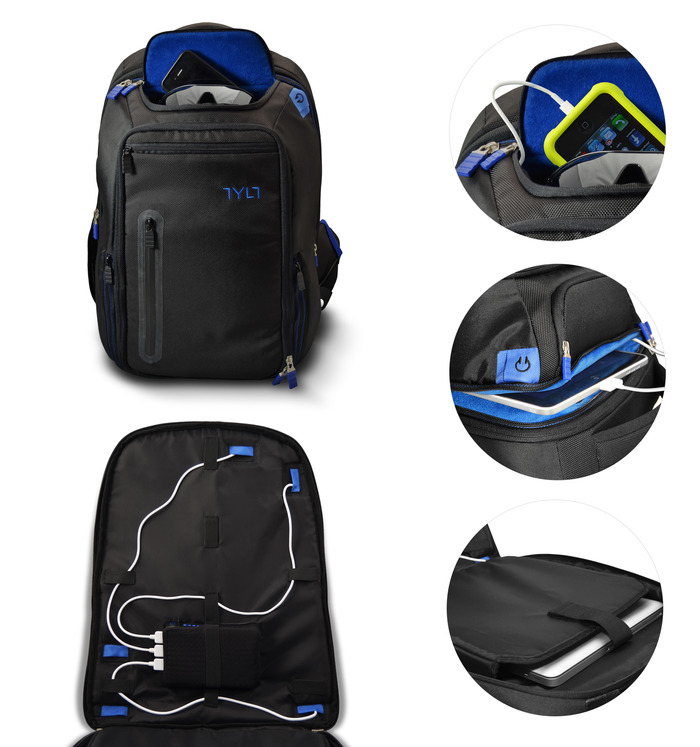 The Technology
We pride ourselves in being battery experts, so we built the smallest, most powerful, most efficient battery on the market.  At 10,400 mAh it's powerful enough to charge a smartphone 4 times, or a typical tablet to one full charge.  It has 3 USB Ports, one that is rated at 2.1Amps to handle your tablets, and two that are rated at 1Amp if you use both at the same time, or if you only use one, that one will kick out 2.1Amps as well.  It's called a shared Circuit (techy talk).  It will charge just about anything you plug into it.  (No it won't charge your laptop)  The battery weighs just over 11 Ounces and is 4.6 Inches x 3.2 Inches x 1 inch.  You recharge the battery by plugging it into any USB port, simply unzip the conveniently located charging cable pocket, pull out the USB cable and plug it into any USB wall charger, Laptop USB Port, or even your USB Car charger.  It takes about 8 hours to recharge using a 2 Amp USB charger.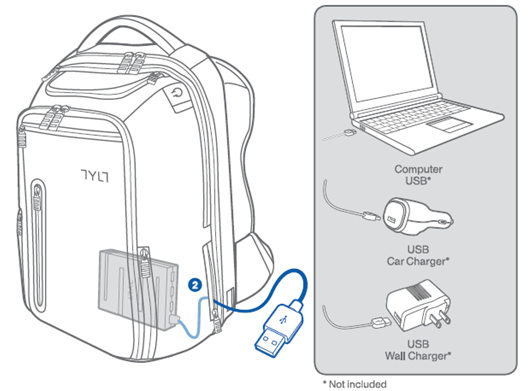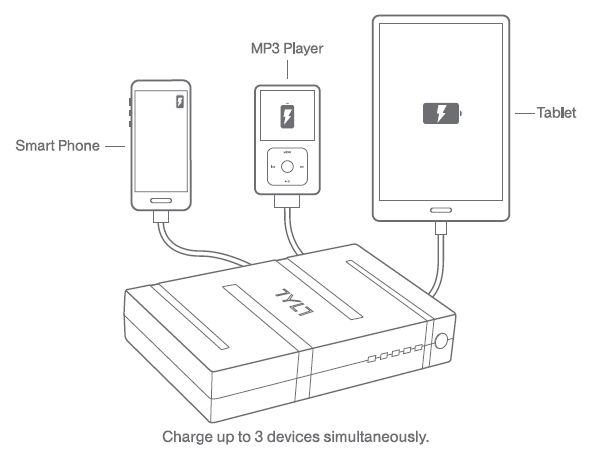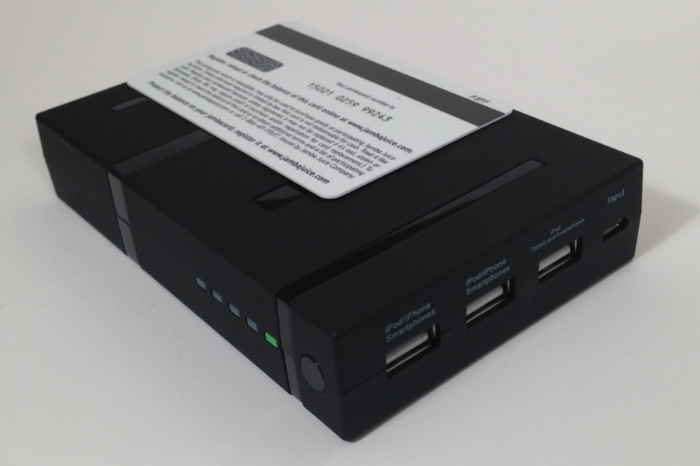 The Proprietary Cable Routing System
During the design process we really felt that YOU should be able to decide what cable YOU wanted to route and what pocket you wanted to use as a charging pocket.  This was very important to us and we think we did a pretty good job.  First we gave you the cables you needed to do the job. Then we designed the bag to have 6 Charging Zones that you can customize to your needs, and change whenever your needs change. Then we made easy pass thru ports and colored them blue so you could find them. Its kind of like lacing up your shoes..only cooler.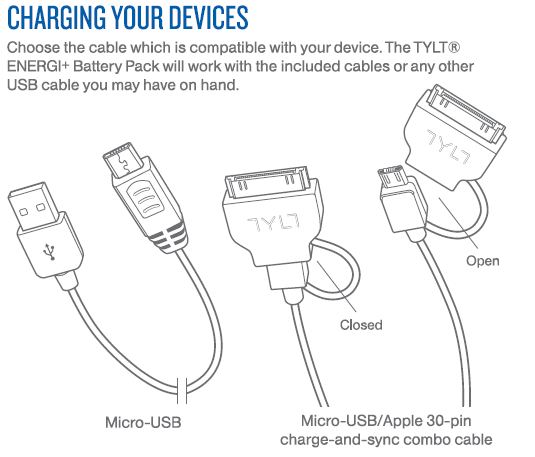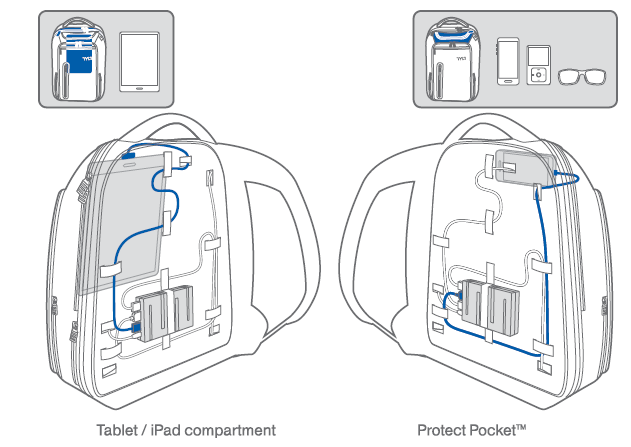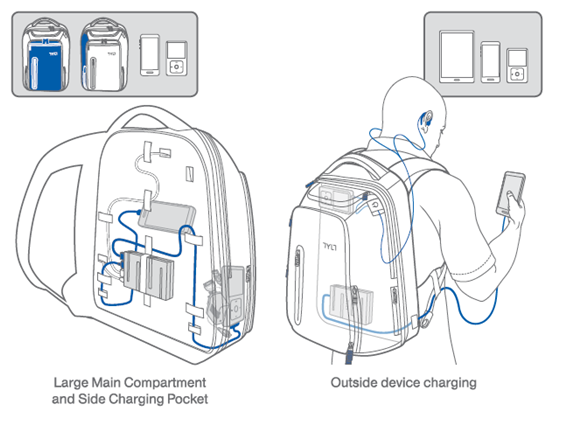 The Backpack
We never wanted to forget that this was a backpack and it should carry more than just your tech gear.  We also wanted to make sure it looked great and had great features.  A backpack is fabric so we started with hight quality 1680 Denier for front and 900 Denier for the main body. We used high density foam for the back vented padding and we used the same high quality foam for the shoulder straps.  The four main pockets (Sunglass, Easy access, Tablet, and Laptop) all are lined with soft velvety material.  There are so many features it's hard to list them all but here are some of the cooler ones:
10 Zippered Pockets, 5 elastic pockets, key loop, pen holder
Sunglass Hard Case pocket – Hard on the outside, soft on the inside
Dedicated Tablet Pocket with easy access 3/4 zipper – designed to fit a magazine if you're still reading them
Trolley Handle Pass Thru – slide the bag onto your roller bag
TSA Checkpoint friendly design- no need to remove the laptop at the airport
Accessory Bag to manage all your tech extra's
Easy Access soft lined front pocket
Easy access Tall Pocket for long items like plane tickets
Flat bottom design – keeps the backpack from falling over when placed on the ground or a table
Side Hydration Sleeve – hides away when you don't need it
Easy View Pockets – we used screen fabric on several of the internal pockets so you can see your stuff.
Headphone carrying pocket – on your hip for easy access
NFC (Near Field Communication) tag built into the shoulder strap – programmable using our free App (if you don't know what this is that's okay if you do, you know how cool it is).
Custom designed Brushed Metal Zipper Pulls – they feel good.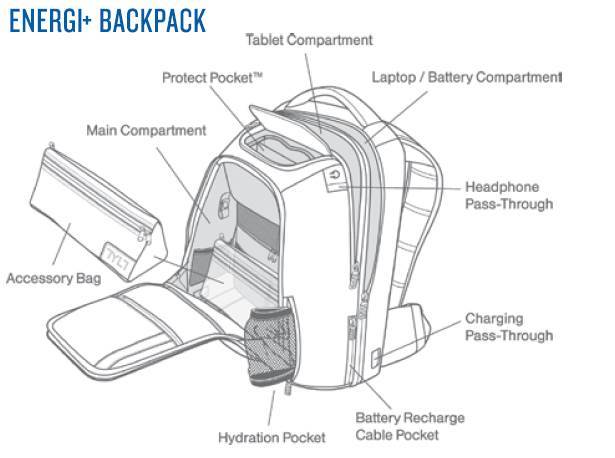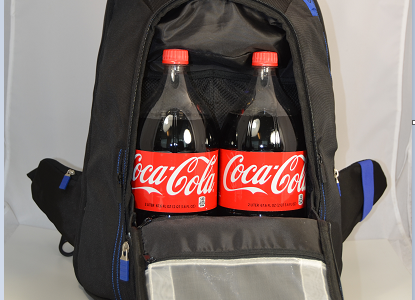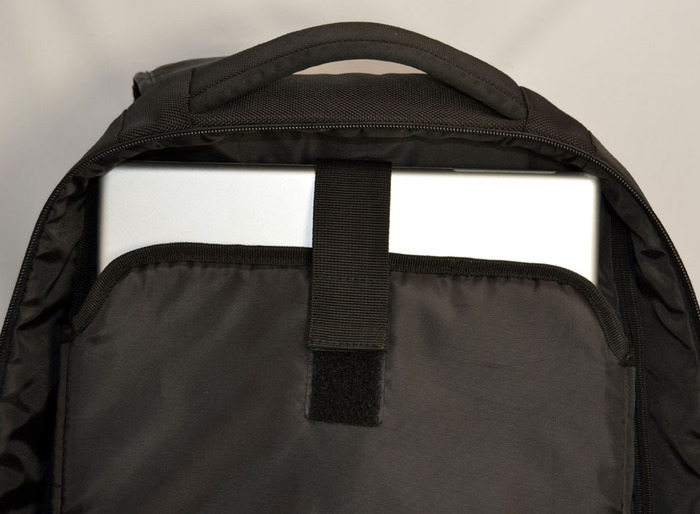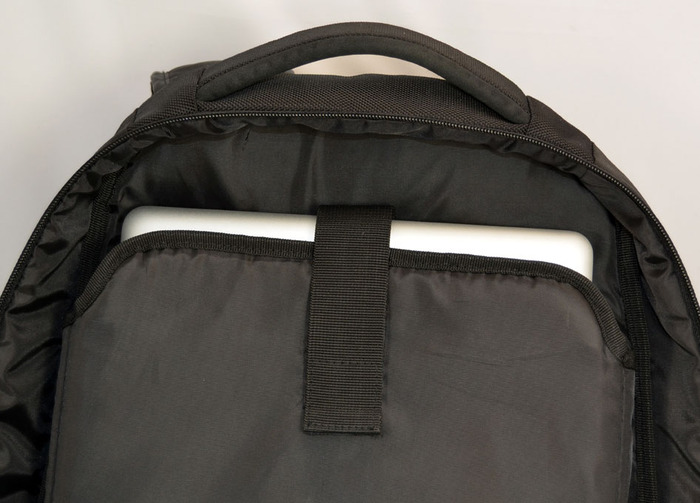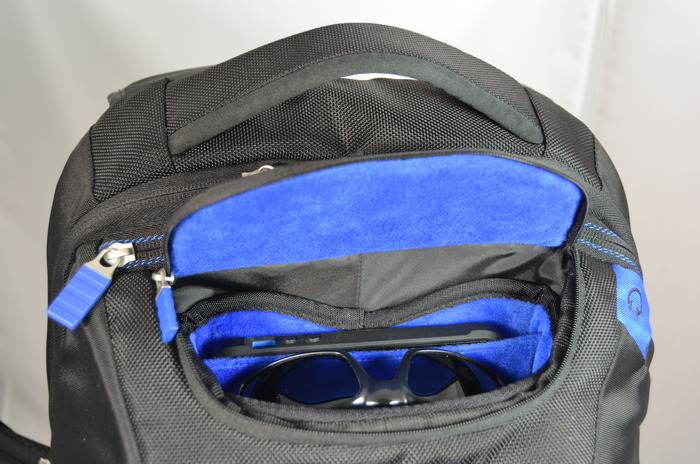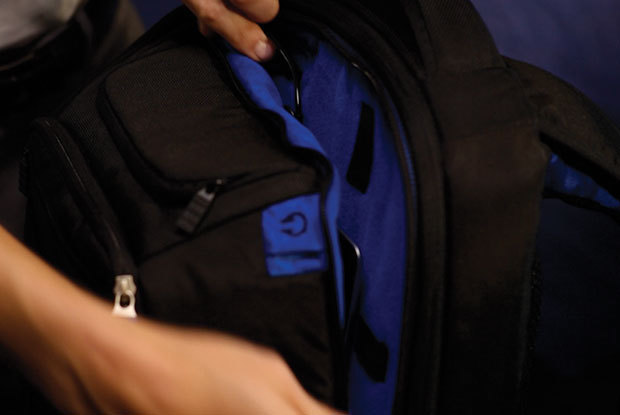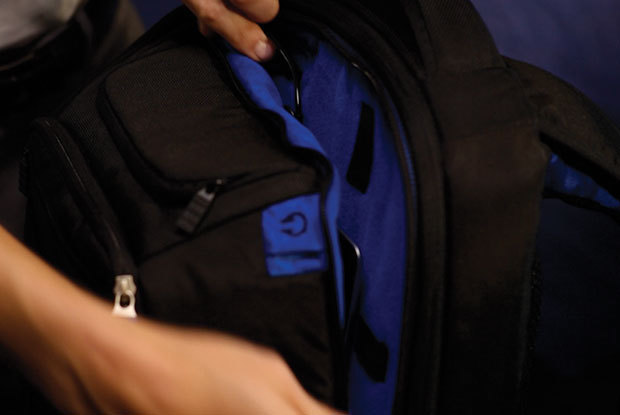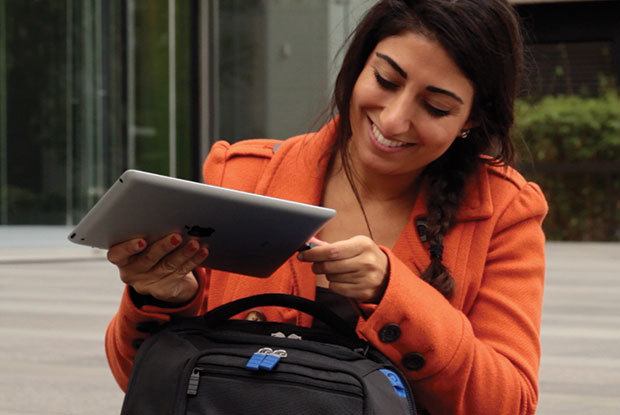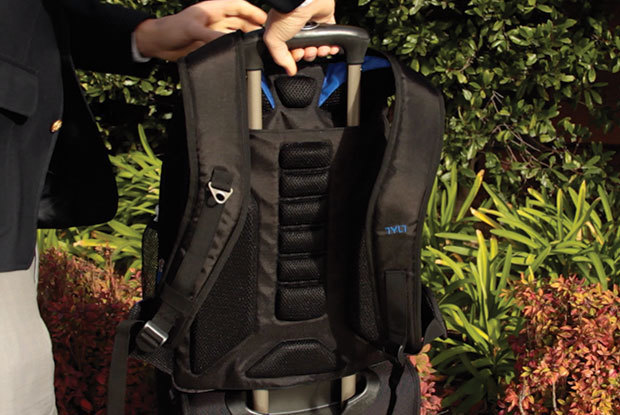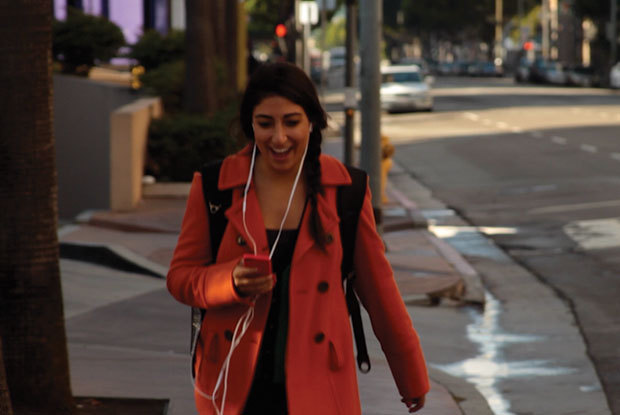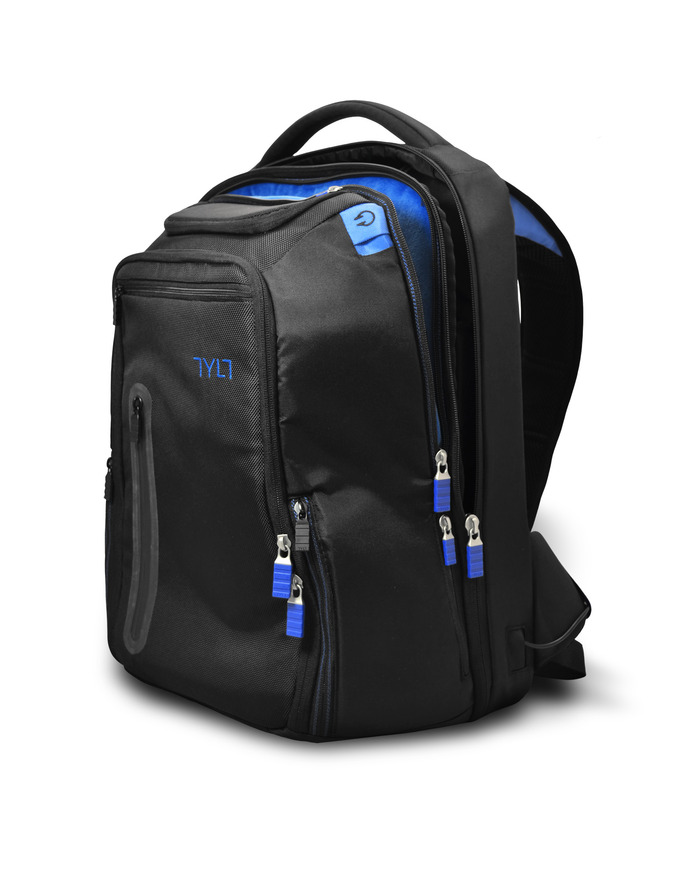 What's next:
During the KickStarter Campaign we will continue testing and finalize the production process.
If we are funded  – We will jump on a plane immediately and head to North China for pre-production.  Batteries are complete (we built these with our own funds to ensure fast production).  The backpacks are ready to go into production once we know how many we need to produce.
April 15-19 – Pre Production Run – Battery Delivery and Quality Control testing review. Our team will be on the ground to supervise. We will produce a maximum of 500 units to ensure production is perfect.  Once approved we will move to full production the following week.
April 22-May 3 – Production of backpack in North China and shipment to Hong Kong for Assembly in our 3rd party warehouse. The battery and backpack are made in two different factories, we need to combine them at a 3rd warehouse in Hong Kong. Final quality control inspection before shipment.
May 4 – May 24 – Product is shipped to our US distributor.  To keep cost down we will ship the first production run via Ocean, that will take 20 days.
May 24 – May 31 – Our Kickstarter supporters products will be shipped for deliver in the first week of June.  We truly believe that we will be ontime, in fact we think we may be able to deliver early.