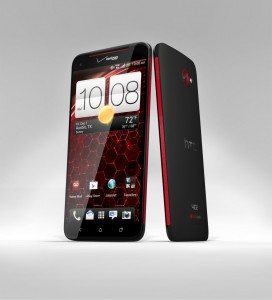 For those of you looking for an Android Device with a large screen without holding a tablet next to your head the Droid DNA may be the phone you're looking for. With a 5″ screen, Quad Core Processor, and NFC with wireless Charging capabilities could this be the Verizon phone you are looking for? Read my review and find out for yourself.
The screen on the Droid DNA is 5″ that has a resolution of 1080 x 1920. This is one of the largest resolutions there is on a SmartPhone to date. The S-LCD 3 display has a pixel density of 441 ppi, which is greater that the iPhone 5's. This helps give you a clearer and more defined picture than that of the iPhone 5. The display will also show 16.7 million colors. The Droid DNA gives you not only a better looking picture (in my opinion) but also a larger and easier to read screen. The screen, with its larger size, is great for watching movies on road trips, or even reading your favorite book on the Kindle App.
The main camera of the HTC Droid DNA is 8MP and features a LED Flash. The Aperture size is F2.o which gives you super crisp and clear pictures in most lighting situations. The camera can record HD video at a resolution of 1920 x 1080 in 1080p HD. The camera has features such as HDR, Panorama, Back-illuminatioed Sensor, Auto Focus and Facial Detection. The front camera is 2.1 MP and is great for a Skype Session or what ever Video Chat service you may use. The camera on this phone is of the quality that you could pretty much use this phone to replace your camera on family outings.
HTC gave the DNA a decent sized battery at 2020 mAh. While this won't power you phone for days on end, it does give you ( in my testing) a good 8 hours, with a suggested talk time of 12.8 hours i'd say this is very respectable. They standby time is rated at 14.7 days, but who leaves a phone lying around for 24 hours, let alone 2 weeks. The non removable battery does mean that you won't be able to easily just replace it with a larger battery and case. Battery life is also helped by the use of a quad-core processor.
Speaking of the Processor, the HTC Droid DNA uses a Qualcomm Snapdragon S4 Pro Processor. This is a quad-core processor that is clocked at 1500 MHz. This keeps your phone running lag free and as fast as you could hope for. Thy also have a Adreno 320 processor to keep the graphics as lag free as the programs you are running. The processor is helped by the addition of 2GB of system memory and 15 GB of built-in storage. One of the only downsides to this phone is that the memory is limited to 16 GB (11GB useable) storage. There is no microSD slot to expand your memory.
The DNA operates on both Verizon Wireless 3G and 4G networks for blazing fast speeds and great coverage coast to coast.
The HTC Droid DNA is by far one of the best Android Phones out there at this time. It has a 5″ screen that is great for both the reader and the movie watcher. The size while big, still fits comfortably into your hand while using it, and doesn't look like a brick against your ear. As I did state earlier, the only real downside to this phone for me, is the lack of a microSD card slot to expand the memory. The Droid DNA also features Beats Audio for superior sound quality out of your phone.
The Droid DNA by HTC is available for $199.99 with a Two year agreement on Verizon Wireless.