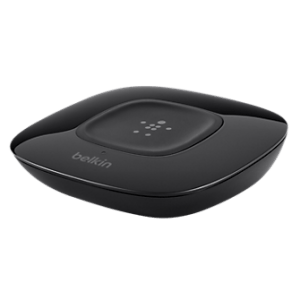 So you have all of your music stored on your phone and want to play it over your home theater system or even just a good set of speakers. Only problem is, you don't want to have to attach your phone to the speakers with a cable. Lucky for your Belkin has developed, and Verizon is selling a wireless Bluetooth solution that works with all phone or devices that are Bluetooth capable. With multiple ways to connect the device to your sound system, this may be just the device you are looking for.
The Belkin HD Music Receiver is a great choice to wirelessly connect your Bluetooth device to your home theater system or any other system that has an audio input.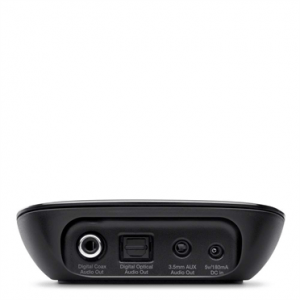 One of the nice features that Belkin has included is that there is multiple ways to hook the receiver up to your audio device. If you just want to connect to a simple set of speakers, you can use a standard audio cable with 3.5mm jacks on either end. Say you have a surround or home theater system that uses an RCA connection, Belkin has included a 3.5mm to RCA cable. Maybe you prefer slightly better audio and want to connect via a Digital Coax Audio Cable. Not only is that an option with the Belkin HD Bluetooth Music Receiver, they include the cable needed. If your theater or home surround system happens to have a Digital Optical connection, and you have the proper cable, you can also attach the device that way. How many other devices on the market offer that many connection options, and at this low of a price.
The device works with any Bluetooth capable device. If you happen to have an Android device that has NFC, you can download the Belkin Bluetooth App. With this app, just tap your NFC capable Android Phone to the Belkin Music Receiver, and you will be automatically paired to it.
The Belkin HD Bluetooth Music Receiver offers excellent sound quality for your music enjoyment. You can carry your phone around with you and still listen to your music through your home stereo or other speakers. The Bluetooth range of 33m is easily met with this device. If you thow in a wall or two between yourself and the receiver you may and probably experience some static and loss of connection. This is something that is experienced with all Bluetooth devices though.
The Belkin HD Bluetooth Music Receiver with its great sound, multiple connection options, and the ability to work with nearly every Bluetooth device out there, is something that shouldn't be passed up if you have the money,
Price is $59.99 from Verizon Wireless or Belkin directly. Do you already have one? Let us know how you like it. If your picking one up after reading this tell us why. We would love to hear your reasons.