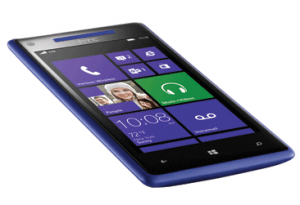 Windows is attempting to make its comeback in the SmartPhone market. The two big players helping in this are Nokia and HTC. The Verizon HTC Windows Phone 8x takes all the function of Windows and their Live Tiles and adds them to a phone that has a thin design, great camera, and super clear screen. Lets see what else the phone has to offer.
The screen on the HTC 8X is a S-LCD 2 and is 4.3″ diagonally. The screen has a resolution of 720 x 1280. This gives you a decent size and excellent clarity for watching both home movies made on the phone and movies you may watch from Redbox or Netflix. The Pixel density is 342ppi which is greater than that of the iPhone 5 Retina display. The 8X can display up to 16.7 million colors and offers great picture quality and clarity. The HTC 8X doesn't necessarily have a large screen compared to some of the other SmartPhones, but it makes up for that with its clarity and graphics processor offering no lag.
The main camera on the 8X is 8MP with an aperture size of F2.0. For low light situations, there is a LED Flash. Video from the camcorder is achieved in 1080p HD at 30 fps with a resolution of 1920 x 1080. The phone also has a 2MP front facing cam for Skype and other forms of Video Chat. The picture quality of the 8X is as good of quality as any other SmartPhone out there. If you don't want a picture as big as 8 MP, they give you options for 3, 4, 5, and 6 MP. 6MP is the default set by HTC. There are also options to set different effects, and change the White Balance to get the optimal setting no matter your lighting situation. The only real let down to me was the camera button. I found the button difficult to press, and when enough force was pressed to activate the shutter, i would end up moving my hands just enough to get a blurry picture.
The Windows Phone 8X has an 1800 mAh battery which seems kind of small for a smart phone. Being as the phone is a sealed unit with a non removable battery you can run to Amazon or some 3rd party to buy and extended battery. They have estimated the battery life to be close to 12 hours of talk time. As we all know, no one uses their phone strictly for talk. With my heave use, I could get between 5.5-7 hours out of a single charge. Remember, your battery life will vary depending on cell signal and you use.
The 8X is has Snapdragon S4 Plus Processor that is Dual Core, clocking along at 1500MHz. This gives your phone great lag free speed, while still allowing the phone to have the battery life it does. There is also a Adreno 225 graphics processor that can keep up with even the most graphic intensive games Windows has for their phones. The Snapdragon Processor also keeps up with what ever you can throw at it also. I notice no noticeable lag at all during my use of the phone.
The HTC 8X has 16GB of built-in storage and 1GB of system memory. While this is more than enough for everyday use with pictures and music, you will find you run out of space quickly if you try putting too many movies onto the internal memory. There is also no microSD slot to add-on more memory.
The Windows Phone 8X operates on both Verizon 3G and 4G data bands. The phone also includes NFC and is compatible with wireless charging. Beats Audio Processing is also included to give you superb sound from both the internal speakers, and your headphones.
One of the big selling point to the Windows Phone is the Active Tiles. The Tiles can be moved around, and place in whatever order you would like. or to fit whatever your needs may be. The Tiles can be resized independently of each other and can be sized from a 1×1 square to a 2×2 square, or even a 2×4 square. The tile sizes all depend on which tile you are attempting to resize. The active tiles get their name from the fact that they are updated real-time. The photo's tile will flip through your pictures, the people tile will randomly flip through your contacts showing their contact photo. The size of the picture varies through each rotation. The Xbox tile will even show an animation of your avatar. Different tiles for different app's also will act differently depending on how they are set up.
As of December 2012, their were 150,000 apps in the Windows Phone Library. While this may seem like a lot, several key apps that I use daily such as Instagram, Craftsman (for my garage door opener), Nexia (for home security),XFinity and several others. This was the downfall of this phone for me. Aside from the lack of apps I use this is a great phone that could easily be used day in and day out.
The Windows Phone 8X By HTC is available from Verizon Wireless in both Blue and Black. The phone is available now for $99.99 with a new 2 year agreement.