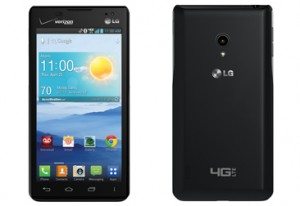 Moving from a basic phone to a smartphone can be exciting. And, as with any leap forward, there are many new things to discover and learn.
However, transitioning doesn't mean that users have to be thrown into unfamiliar settings and features or, alternatively, forego functionality that they may want at a later date. Smartphones like the compact Lucid™ 2 by LG, exclusively at Verizon Wireless, with a long-lasting battery and 4.3-inch qHD display make it easy for first time smartphone owners to enter the smartphone world, discover new features and apps, and personalize their experience.
Turning on a smartphone for the first time and watching it come to life is the beginning of a new experience. The Lucid 2 lets users choose from different modes, Starter Mode or Standard Mode, when they take the phone out of the box.
Starter Mode is a simplified and more intuitive experience ideal for those who are new to smartphones. This option has five easy-to-learn home screens, featuring pre-set widgets such as My Apps, My Contacts and My Settings. Standard Mode is a general smartphone setting for those who are familiar with the Android experience. Users can pick the mode that best suits their needs, letting them get accustomed to the phone, find the most common features, and uncover their favorites.
Apps are an integral part of the experience for both first-time and experienced smartphone owners. The Lucid 2 features QuickMemo™, an app that allows users to capture screenshots and use their finger to add personalized commentary or drawings. Video Editor and Video Wiz apps bring a mini editing studio into a user's hand to edit and customize video clips that can be quickly shared. And with Android 4.1, Jelly Bean, customers can use features such as Google Now to see relevant updates for traffic, weather, meetings and more.
With a smartphone, users can take advantage of a wide range of accessories. The Lucid 2 is wireless charging capable with the purchase of a wireless charging battery cover, allowing owners to easily charge their phone by setting it on a wireless charging pad (sold separately).
Lucid 2 by LG will be available online at www.verizonwireless.com for free with a new two-year customer agreement beginning on April 4 and will be in Verizon Wireless stores in the coming weeks.
Tags: Lucid 2 by LG, Lucid 2, Android Jelly Bean, Android 4.1 Jelly Bean, Lucid 2 Android Jelly Bean