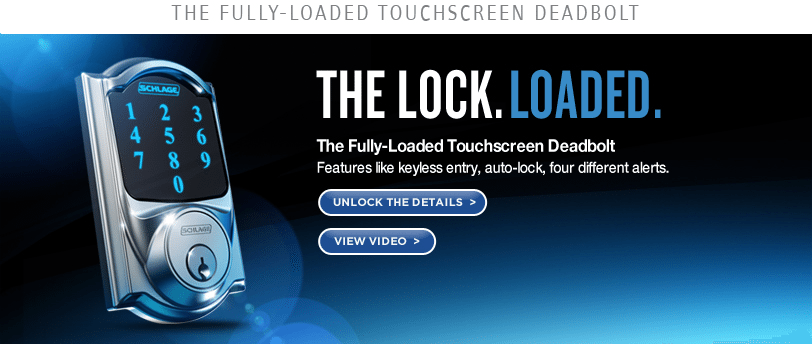 Over the past couple of years you have seen me review multiple components to the Nexia Home Intelligence System. From the Schlage Keypad Lever, to Motion Sensors, to Wireless Camera's and Door Alarms. Today we have the Schlage TouchScreen Deadbolt with Alarm. The deadbolt features the quality that you have come to know and trust from Schlage, with the keyless entry that you want. How does this lock handle? Keep reading to find out.
[nggallery id=42]
The Schlage TouchScreen Deadbolt is a great add on to your existing Nexia Home System, or even just by itself. The deadbolt is built with high quality materials and is made to stand the test of time.
While looking larger than a traditonal deabolt that you may be used too, the Schalge TouchScreen Deadbolt fits into pre-existing opening. In my case, using a standard installation kit that can be purchased in any home repair wearhouse, I had the entire deadbolt installed, and working with my Nexia Home Intelligence System.
The Kit comes with everything you need to install your deadbolt (minus 4 AA batteries). The Kit comes with easy to follow instructions and goes together very easily.
Once installed, setup is a breese. Touch the Schlage Logo on the front, enter the code provided with the instructions (each lock has unique numbers) and you can program your own unique code. Your code can range from 4-8 numbers. Note that all codes must be the same length, you can not have one code that is 4 numbers long, and another that is 8. If you have multiple people living at your residence, or maybe you would like to use this at your small business, you can add up to 30 user codes to the Touchscreen Deadbolt.
The TouchScreen is made to be resistant to fingerprints. As you can see in pictures, the numbers and Schlage Logo light up in blue light. The light is not overpowering, but just bright enought to illuminate the numbers. All you need to do to activate the touchpad is tap the Schlage logo. Then enter your code and the door will either lock or unlock.
Lets look into some of the advanced settings that the Schlage TouchScreen Deadbolt offers:
Lock And Leave: This feature allows you to lock your deadbolt by just touching the Schlage Button on the outside of the door. If the feature is turned off, you must hit the Schlage Button, and enter your code.
Auto Lock: With this feature activated, the deadbolt will automatically lock 30 seconds after the door is unlocked.
Local Alarm Control: This allows you to change the alarm settings with the interior Schlage Button.
Alarm Mode: There are 4 settings to the alarm
OFF: The Alarm Mode is deactivated
Activity: This will sound a "chirp" when the door is opened or closed. Depending on the sensativity, you will find your screen door closing will also set this off. Sensativity can be adjusted from 1-5.
Tamper: This will sound an alarm for 15 seconds when, if locked, the lock feels a subtile vibration. The Sensativity for this can be adjusted from 1-5
Forced Entry: The alarm will sound for 3 minutes when the lock senses a strong vibration. The Sensativity for this alarm can be adjusted also from 1-5
Alarm Triggered Alerts: This will send a text to your mobile device or email when one of the Alarm Modes has been activated.
Keypad Beeper: There is a beep sound when any othe the buttons are pressed. This can be turned on or off
Vacation Mode: When activated, all codes will not work until Vacation Mode is deactivated
Keypad Lockout Alert: This disabled the keypad for 30 seconds when a code has been incorrectly entered 4 times. An alert is also sent to your mobile device or email.
The SchlageTouch Screen Deadbolt is a great, even if you do not currently have a Nexia Home Intelligence package, the deadbolt still works perfectly as a standalone unit. Never again will you have to worry about loosing your keys or fiddling around with trying to find keys when you have your hands full. Add codes for all your family members and be able to keep track of who comes and goes and when.
Overall the Schlage TouchScreen Deadbolt works just as they say it will. The battery life is good for about a year and they only take a few seconds to change. The Touch Screen is weather resistant and has withstood a Western PA Winter, and now into spring. Price is $199.99 from Lowes, $206 from Amazon, or $199.99 from Home Depot.
Pick up yours today, and take solace in the fact that you now have a dead bolt to not only protect you house, but one that also alerts you when someone enters your house or tries to break in.