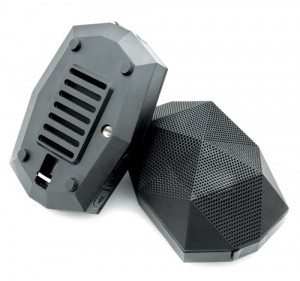 if someone spills their alcoholic beverage on them. Maybe a freak rain storm comes down and ruins the wooden enclosure to your speakers. Well fear not, The Outdoor Technology Turtle Shell can save not only your party, but also your indoor speakers. Sound awesome? Check out below just how awesome it is.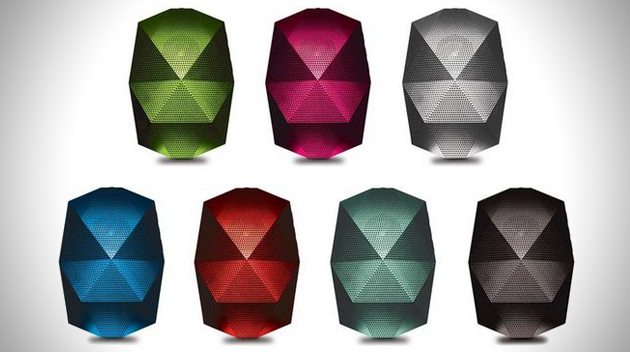 The Outdoor Tech Turtle Shell is the outdoor speaker that you need for throwing outdoor parties, sunbathing, days at the beach, concert tailgate parties, sports tailgating parties, and so on and so forth. The Turtle Shell comes in 7 different colors so you can buy on that will match your style, or give one as a give and get them their favorite color.
The Turtle Shell gets its' name from the Turtle Shell  shape of the enclosure. The enclosure houses 2 speakers with passive radiators. This combinations will give you up to 96 db of crisp clear sound with impressive bass responsive for the size of the speakers.
Outdoor Tech has truly made this a speaker that can be used indoors or outdoors. The speaker has an IP65 dust-proof and water-resistant rating meaning a little dust bowl dust, or Outer Banks sand won't ruin your good time. Heck, even a little intermittent rain won't ruin your parade.
The top of the speaker is multi-faceted and helps to project the audio in all directions. On the one end, there is a power plug and also a 3.5mm jack if you don't happen to have a bluetooth enabled device. There is a cover for these plugs made out of silicon that helps keep out dust and water. On the front side are the Volume/Track control buttons, and a Multi-Function Button. On the end opposite of the power port is the on/off button. The power plug for the Turtle Shell is a small plug that is not a standard microUSB plug. So make sure you never misplace the plug that comes with it. They also send a power plug with the Turtle Shell so you can charge your device from your home outlets.
The Turtle Shell is powered by a rechargeable internal battery that will last for up too 9 hours.
Like music while you are out on your bike ride? Outdoor Tech even makes a bracket that screws into the base of the speaker and clips to your bike for music on the go. The screw base is a standard size that is compatible with all camera mounts and some surround sound speaker mounts. This way if you want the sound coming from above at the party, just mount a speaker mount on your wall and you are good to go. There is also a small metal band on the back that you can use to hang your speaker from a hook, string, or even a removable sticky hanging device.
The Turtle Shell also has a built-in microphone so you can go from listening to tunes to having a business conversation without skipping a beat.
The Outdoor Technology Turtle Shell Bluetooth Speaker Phone is available in Black, White, Red, Blue, Green, Pink, and Sea Foam Green. Price is $149.99 and well worth the money if you have it. With a great sound, interesting look, and the ability to be used for both pleasure, and business calls, you can't go wrong.