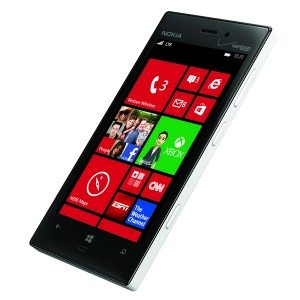 Having the right camera in your pocket makes the difference between capturing the perfect shot at the right time and a blurry or dark pic destined to be deleted. The exclusive Nokia Lumia 928 with Windows Phone 8 features PureView technology and Optical Image Stabilization (OIS) which create blur-free pictures and videos, even in low-light conditions.
Fans at a concert can record full 1080p HD videos with the 8.7-megapixel camera with Carl Zeiss® optics and take advantage of the high audio amplitude microphones for distortion-free sound. Reliving those moments on video is easy with the phone's a 4.5-inch PureView display.
Built-in apps on the Lumia 928 like Smart Shoot, Cinemagraph, and Panorama let users take advantage of 4G LTE speeds to share pictures or videos quickly. Smart Shoot lets users shoot five consecutive pictures and pick the best faces from each frame.
Apps can also turn smartphones into tools for entertainment, discovery and navigation. Nokia Music gives users access to unlimited ad-free streaming music, HERE Nokia City Lens lets users discover new places and VZ Navigator helps users get to where they need to be.
The Global Ready™ Nokia Lumia 928 with wireless charging capabilities will be available online and in stores starting May 16 for $99.99 after $50 mail-in-rebate with a new two year customer agreement.