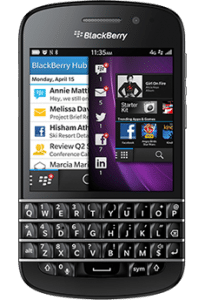 Conversations happen very fast, both in person and through smartphones. The importance of speaking accurately and confidently also applies to typing on a device. Having a physical keyboard gives users the precision they need with the typing speed they want when communicating.
Similar to the BlackBerry® Z10 smartphone, the upcoming BlackBerry Q10 runs on the BlackBerry® 10 platform and includes a suite of features including smart keyboard software that understands and adapts to a user's typing style. It creates personalized word suggestions and contextual auto corrections while a user types. Conversations can move along without having to waste time fixing typos.
Keeping all those conversations organized is key to staying efficient and productive. The BlackBerry Hub helps organize multiple inboxes so users can view all their messages in one place instead of having to jump around from app to app. Keyboard shortcuts let users take action quickly and can be accessed directly from the home screen. Users can type "email Paul" or "call Paul" and the device begins action.
Q10 users will have access to BlackBerry World to download apps, games and entertainment over 4G LTE connectivity. BlackBerry Messenger (BBM) fans can also use 4G LTE to video chat with friends. BBM on the new platform includes a screen sharing feature so friends can share picture slideshows and co-workers can review documents together.
The Global Ready BlackBerry Q10 will be available for pre-order in the coming weeks and will be available for purchase online and in Verizon Wireless stores in June. Users will be able to choose from Black or White color models, with the White model being a Verizon Wireless exclusive. Customers can sign up for additional information here.