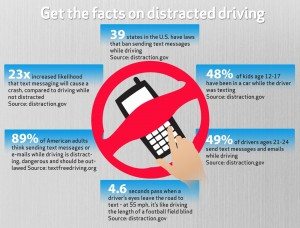 Spring is the time of year when temperatures start to rise and thoughts turn to upcoming day trips and summer vacations.  In fact, AAA reported that this time last year nearly 35 million Americans were planning Memorial Day road trips to celebrate the unofficial start of the summer.
And, as we prepare for more cars on the road, it is important to remember to take precautions to stay safe behind the wheel. This week, Verizon is joining forces with AT&T, Sprint, T-Mobile, and a number of other businesses and community organizations to help promote safe driving through It Can Wait.  The campaign urges drivers to pledge not to text and drive and provides resources and tools to help prevent distracted driving.
Drivers can turn to technology to help maintain focus while on the road.  The Safely Go app allows users to lock their phones and sends automatic text messages alerting others that they are behind the wheel and can't respond.  The app can also route phone calls through Bluetooth or other hands-free devices.
For more than a decade, Verizon Wireless has taken a driver's seat approach concerning legislation and innovation around the prevention of distracted driving.  Thirteen years ago, Verizon Wireless broke with the industry, becoming the first wireless carrier to step forward and support hands-free driving legislation across the country.  As part of this leadership effort, Verizon Wireless developed a Responsible Driver Action Plan, which included first-of-its-kind commitments to include responsible driving messages in company advertising and customer communications.
DALLAS
, May 14, 2013
— AT&T's It Can Wait® campaign to end texting and driving was significantly bolstered today by the commitment of Verizon, Sprint, T-Mobile US, Inc. and more than 200 other organizations to join the movement. Their efforts will support a new national advertising campaign, a nationwide texting-while-driving simulator tour, retail presence in tens of thousands of stores, and outreach to millions of consumers with a special focus throughout the summer months between Memorial Day and Labor Day—known as the 100 Deadliest Days on the roads for teen drivers.1 The 2013 campaign drive will culminate on Sept. 19, when efforts turn towards encouraging everyone to get out in their community and advocate involvement on behalf of the movement.  
"Texting while driving is a deadly habit that makes you 23 times more likely to be involved in a crash," said AT&T Chairman & CEO 
Randall Stephenson
. "Awareness of the dangers of texting and driving has increased, but people are still doing it. With this expanded effort, we hope to change behavior. Together, we can help save lives."
"The It Can Wait campaign is a meaningful way for Verizon to continue its work on this important issue," said Verizon Wireless president and chief executive officer 
Dan Mead
. "Texting and driving is a serious social challenge and we look forward to partnering with leading organizations and experts around the world to answer it."
"As a longstanding advocate of keeping wireless consumers focused on driving, Sprint is proud to participate in the 'It Can Wait' campaign," said Sprint CEO Dan Hesse. "Sprint will continue to promote education of responsible driving behavior through our sponsorship events, social media channels and thousands of retail stores nationwide."
"Mobile technology connects us in many cool ways, but adults and teens need to put it on hold while behind the wheel," said John Legere, president and CEO of T-Mobile US, Inc. "Knowing the risks is not enough. By simply putting the phone down, thousands of tragedies can be prevented every year. It's time to end texting while driving – for good."
The 

campaign kicks off May 20, with AT&T, Verizon, Sprint and T-Mobile bringing a

 

multi-million dollar, co-branded advertising campaign to raise awareness of the dangers of texting and driving, and encouraging everyone to immediately take

 

the pledge against it at

 
www.itcanwait.com
. The campaign will focus on the stories of people who are living with the consequences of texting while driving. Their stories will be told through various media including TV, radio, digital and social. The first story in the campaign will be of Xzavier Davis-Bilbo, who in 2010 at five-years-old, was struck while crossing the street by a young woman texting while driving—leaving him paralyzed from the waist down. 
Texting while driving is an epidemic, and it's not isolated to teen drivers. It affects adults as well. A recent AT&T survey shows business commuters know texting while driving is unsafe, but they still engage in these behaviors. In fact:
·

         
They are texting and driving more than they used to.
o

   
Six in 10 commuters said they never texted while driving three years ago.
·

         
Nearly half of commuters admit to texting while driving, which is more than teens.
o

   
49 percent of commuters self-report texting while driving, compared to 43 percent
2
 of teens.
·

         
Despite knowing the risks.
o

   
98 percent said sending a text or email while driving isn't safe.
·

         
For many, it has become a habit.
o

   
More than 40 percent of those who admitted to texting while driving called it a habit.
3
USAA will collaborate with AT&T to take the It Can Wait texting-while-driving simulator tour to new audiences, driving the total number of planned simulator events to more than 400 this year. USAA and AT&T will share the It Can Wait message with military audiences in a tour to more than 10 military installations and events across the country.
With prominent presence in AT&T, Verizon, Walmart, Sprint, T-Mobile, Best Buy and RadioShack stores, the It Can Wait message will be in tens of thousands of retail locations throughout the summer campaign period.
Also, government agencies including the U.S. Department of Transportation, National Highway Traffic Safety Administration and National Transportation Safety Board have all committed to help end distracted driving and support the efforts of It Can Wait and others who are working to raise awareness. 
Throughout the campaign, It Can Wait advocates will take the message to their customers, employees and stakeholders in a variety of ways:
·

         
Clear Channel Media and Entertainment will share the It Can Wait message on more than 500 of its radio stations across the nation and plans to activate at the iHeartRadio Music Festival in Las Vegas – a two day, star-studded event that takes place in September.
·

         
DriveTime will feature It Can Wait messaging in communications to its employees and customers in their 100+ used car dealerships across the country.
·

         
Goodyear will incorporate the It Can Wait messaging into its high-resolution aerial sign on its three iconic blimps. The messaging will be displayed as the blimps travel the country and visit high-profile sporting events throughout the year.
·

         
Mobile device makers Pantech, HTC, and Samsung are including the AT&T DriveMode® no-texting-while-driving mobile app preloaded on phones.
·

         
Balfour is sharing It Can Wait messaging in class meetings with the goal of reaching one million students this school year.
·

         
The National Organizations for Youth Safety is engaging a minimum of 250 schools for Sept. 19 activities.
·

         
The City of Houston has launched an "It Can Wait, Houston" campaign to inform its citizens of the dangers of texting while driving.
·

         
The Texas Department of Transportation has included It Can Wait in its "Talk. Text. Crash." campaign and on digital highway signs.
·

         
Students Against Destructive Decisions (SADD) has created a speakers bureau in which youth devoted to ending texting while driving take the message to community events, school assemblies and media interviews to bring the issue to life through teen voices.
Social media have been major drivers of the It Can Wait movement, which has inspired more than 1.5 million personal commitments never to text and drive through pledges made at ItCanWait.com, on Facebook, through text-to-pledge and tweet-to-pledge, and at events. In the past year, more than 310 million unique user accounts have been reached through Facebook, Twitter and YouTube alone. 
Beginning May 26 and continuing through the 100 Deadliest Days for Teen Drivers ending Sept. 3, It Can Wait advocates will contribute to a social media campaign delivering daily reasons why texting and driving can wait. The messages with pictures and personal accounts will be shared on Twitter, Facebook, Instagram, Pinterest and ItCanWait.com.
The highlight of the summer campaign will be a national day of action on Sept. 19. On that day, It Can Wait advocates will reach out in their communities to raise awareness of the risks of texting while driving, encourage everyone to make a personal commitment not to text and drive and recruit others to join the growing ranks of advocates dedicated to saving lives by ending texting while driving.
*AT&T products and services are provided or offered by subsidiaries and affiliates of AT&T Inc. under the AT&T brand and not by AT&T Inc.
3
 Commuter survey conducted by ResearchNow on behalf of AT&T
AT&T Inc. (NYSE:T) is a premier communications holding company and 
one of the most honored companies in the world. Its subsidiaries and affiliates – AT&T operating companies – are the providers of AT&T services in the United States and internationally. With a powerful array of network resources that includes the nation's largest 4G network, AT&T is a leading provider of wireless, Wi-Fi, high speed Internet, voice and cloud-based services. A leader in mobile Internet, AT&T also offers the best wireless coverage worldwide of any U.S. carrier, offering the most wireless phones that work in the most countries. It also offers advanced TV services under the AT&T U-verse® and AT&T ?DIRECTV brands. The company's suite of IP-based business communications services is one of the most advanced in the world. Additional information about AT&T Inc. and the products and services provided by AT&T subsidiaries and affiliates is available at http://www.att.com

. This AT&T news release and other announcements are available at 

http://www.att.com/newsroom 

and as part of an RSS feed at 

www.att.com/rss

. Or follow our news on Twitter at 

@ATT

. © 2013 AT&T Intellectual Property. All rights reserved. 4G not available everywhere. AT&T, the AT&T logo and all other marks contained herein are trademarks of AT&T Intellectual Property and/or AT&T affiliated companies. All other marks contained herein are the property of their respective owners.