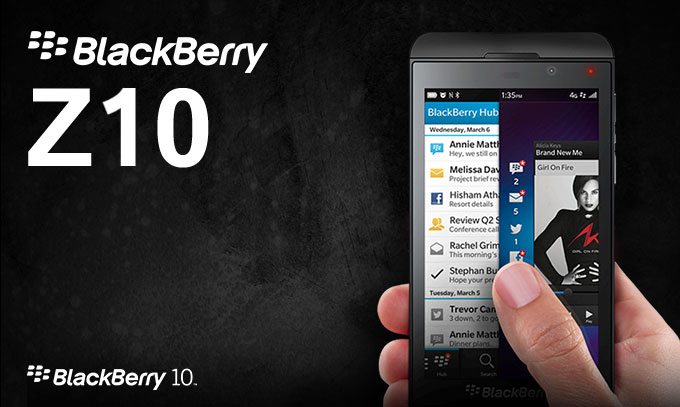 Blackberry is hedging their future on the BlackBerry 10 platform and the BlackBerry Z10 .Without a great leap from the previous BlackBerry versions the company could soon go under. Did the Z10 make the jump they needed? Is the Z10 a phone that will not only keep the current BlackBerry users happy while also converting users from different platforms? Lets take a look.
[nggallery id=48]
The BlackBerry Z10 is the first all touch phone since the ill-fated BlackBerry Storm 2 (yes, I still love that phone). The Z10 has a 4.2 inch capacitive  touch scree. Resolution is 768 x 1280 with a pixel density of 356 ppi. This screen  is the perfect size for those who don't like the smaller iPhone 5 size but are turned off from the Note 2 or DNA size. The picture quality is great and is a pleasure to watch movies on.  With 16 million colors, this screen is just as good, if not better than the iPhone 5
The Z10 is powered by a Snapdragon S4 Plus processor. Clocked at 1500MHz it has the power to run without lag and gives you increased battery life. COmbine that with 2GB of Ram and you never have to worry about force closes, unwanted restarts, or frozen programs. The Z10 also has 16GB of built-in storage and the ability to add up to 32GB via microSD card.
Battery life is the achilles heel of any device. BlackBerry chose to go with a 1800 mAh battery that they rate at 10 hours of talk time and 13 days of standby time. Me and my heavy data usage could kill a battery in as little as 4 hours. Mind you, this was well above average use as my OCD forces me to check my phone multiple times even though I know there are no new messages. Average battery life was about 8 hours with normal usage.
The Z10 has a 8MP rear facing camera and a 2MP front facing camera. The rear facing on has a F2.2 aperture with autofocus,touch to focus, and digital image stabilization. It can record video up to 1080p HD at a resolution of 1920 x 1080. The front facing camera makes great Facebook profile pictures and is stellar for video conference with your business associates.
Other options that make this phone a good choice are NFC to share files, check in to locations on Foursquare with NFC, Lock doors, or any of the other things that NFC is great for. Also the Z10 has a HDMI out port to connect your phone to you TV if it is not connected to your home internet.
That's the main spec's, now let's get into how it actually works.
BlackBerry Messenger: BlackBerry hit it out of the park with this updated version of BBM. You have the traditional messaging like you have always had, but they have added voice and video messaging between BBM users. As if that wasn't enough for you, there is the option to share your screen with the person you are connected to video chat with. Now you can show the person exactly what you are trying explain. 4 Stars
Camera: Not only does the camera take stellar pictures, but you have Time Shift Mode. With this mode enabled, you have the ability to alter parts of the picture to give you that perfect shot every time. If one person stops smiling the second before the picture is snapped, you can edit the person face to the point where they were smiling and get the perfect shot. 4 Stars
BlackBerry Hub: The BlackBerry Hub is your one stop shop to find all the information you need for all your accounts you have linked to your BlackBerry. The Hub shows you the name of the account, amount of unread messages, and it gives you the iconic BlackBerry red asteric to alert you to new messages. In the hub you have the ability to look at new messages, tweets, or FB messages and reply or send new messages without ever having to go into the program itself. This saves you tons of time by keeping all the main business functions right there in one spot.
Home Screen: The main screen of the Z10 keeps a small view of your last used apps. This give you a quick way to go back to a recently used or most used app. If you don't want the app there anymore, you can remove it from the list after you close it.
The Keyboard: The touchscreen keyboard has keys that are sized just right that they are almost as easy to use as the physical keyboards of Blackberry phones past. Whats new is the word suggestion. Your BlackBerry will suggest words it thinks you may want to use based on what letters you have pressed and the prior words typed. If you happen to see the word you like above on of the letters, you just swipe up on that letter and the word is placed in your text. This save lots of time and keystrokes once you get used to typing with it. They keyboard also adds the numbers to the standard keyboard when entering passwords, this saved time with not having to hit the number key.
Overall, the BlackBerry Z10 is not only an excellent upgrade from the previous model BB devices, but this phone puts them right back in the mix. With a powerful processor, good battery life, and an upgraded BBM, BlackBerry has made their return to the smart phone market. Once BlackBerry World gets more Apps to compete with Apple and Android, this will be a good contender to bring BlackBerry back to the top where they once were.