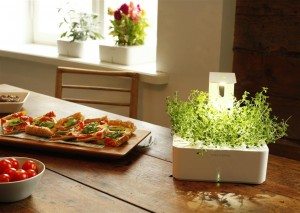 Palo Alto, Calif. – June 13, 2013 – Click & Grow, designer of indoor smart gardens, continues to develop technologies that enable people to grow food in less ideal environments and bring the outdoors inside with the introduction of their new Grow Light.
"The advanced growth medium we use in each Smart Flower Pot, combined with our new Grow Light brings the joy of growing plants to everyone, anywhere, using clever technology." said Founder Mattias Lepp. "The Grow Light has a pre-programmed timer that allows users to activate the system in coordination with their personal schedule."
The Grow Light's safe LED technology only requires 3 watts of energy which equates to a marginal 2-3 dollars a year of additional electricity. This is the perfect addition to our Smart Flower Pot, a high-tech and self-watering smart gardens that make growing plants indoors easy and carefree. Click & Grow's nano tech growth medium supplies plant roots with the right amount of oxygen, water and nutrients at any time. Mimicking the organic decomposition cycle of nature, Click & Grow's growth medium is hormone-free, pesticide-free and fungicide-free.
For users with a sweet tooth, Click & Grow also adds a Sugar Leaf refill to their product lineup. The leaves of this new refill can be used as a natural sweetener and contains steviol which is 300 times sweeter than sugar and completely safe. Sprouting can be expected within 7-14 days of installing the plant cartridge and its lifespan may vary from 10-18 months.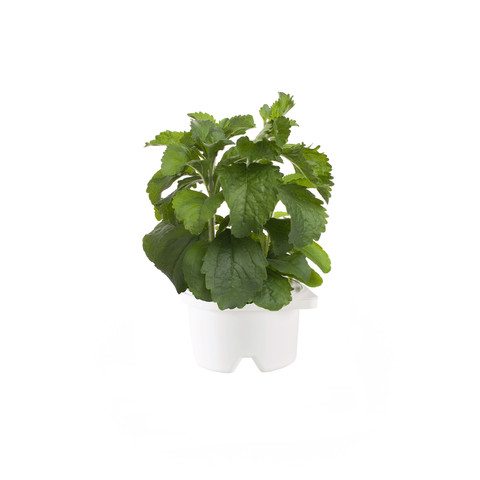 Click & Grow's new Grow Light and Sugar Leaf Refill are now available at www.clickandgrow.com for $49.00 and $19.99 respectively. Order now and receive free shipping until June 18th for all orders over $39.00.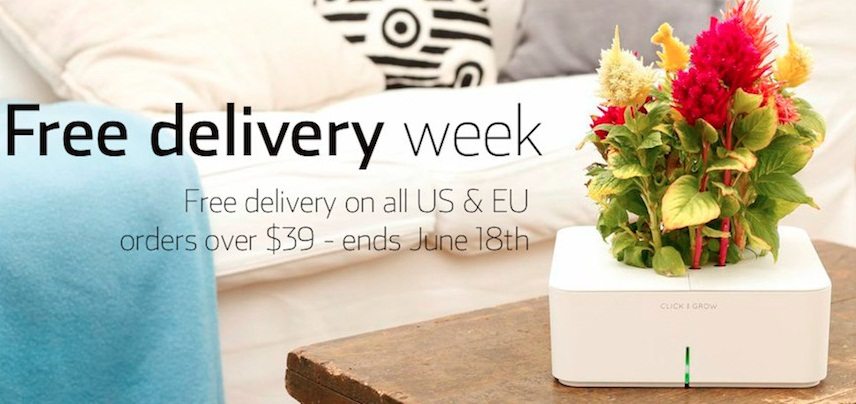 For more information and to purchase a Click & Grow starter kit, visit www.clickandgrow.com.
Grow Light Technical Specifications:
Light output: 3W
Operating voltage: 5V DC
Operating room temperature range: 10-30°C / 50-86°F
198-gram weight (excluding cable)
210mm (Length) x 130mm (Height) x 60mm (Width)
Digitally regulated output – maintains constant brightness
16/8 hour digital ON/OFF timer.
The light arm is made of steel
###
About Click & Grow:
Click & Grow is the leading creator of easy-to-use electronic smart gardens that grow plants without watering and fertilizing. The company's smart technology controls all the necessary parameters and doses an exact amount of water, fertilizer and air, according to the plant's needs. Click & Grow's specially developed and patented growth medium enables users to grow fresh herbs, vegetables and plants in homes and offices around the world. Since the company's inception in 2010 over 50,000 smart gardens have been sold worldwide. To learn more about Click & Grow's comprehensive line up of products and plants, visit www.clickandgrow.com.