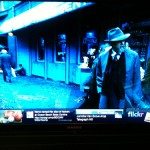 The lines are continuing to blur between Internet and computer apps and television. Increasingly, television programming is allowing, even encouraging, viewers to interact with TV hosts, sporting events and network programs in real time. From red-carpet coverage, to chatting with NBA commentators about the final play, social interactive television is here and becoming increasingly popular every day. If you haven't noticed television reaching out from the set and inviting you to participate in the programming, you haven't been paying attention. Below are just five ways television is becoming more "social."
Voting
1.) This was one of the first experiments in social television. Reality shows, such as "Dancing with the Stars" and "The Voice," allow viewers to vote for favorite contestants via Facebook apps. Even "American Idol," which only allowed telephone voting for years, has caved and now allows online voting. If you're a fan of red-carpet events, such as the Academy Awards, the Grammys or the Golden Globe Awards, programs such as E! allow viewers to vote for their favorite outfits in real time.
Apps to Use Watching Programming
2.) Bravo has embraced social television in a new way with the release of its free Bravo Now app, announced in Jan. 2013. This app, which is compatible with a number of devices such as the new Smart TV Samsung and Google TV, gives viewers additional content that complements the main programming. For instance, viewers can get bios on cast members of "Real Housewives" or what's coming next on the channel, according to Next Web.
Integrated Tweets
3.) As celebrities have embraced Twitter it's only natural the site should make its way to social interactive television. The last Grammys telecast had host LL Cool J tweeting backstage and reading and responding to some of the more than 200,000 tweets a minute, according to Chris Copeland of Adweek. TNT also makes use of tweets during its NBA broadcasts, giving its more than 7.2 million followers on Twitter a chance to be a part of the game, as tweets are commented on by the likes of announcers Charles Barkley and Shaquille O'Neal.
Mobile Apps for Shows
4.) Providers such as www.Direct2TV.com offer a number of mobile apps for television, which make connecting to social media only a click away. Viewers can watch live sporting events, as well as a full lineup of children and adult programming, via tablets and mobile devices. Hulu and Netflix are a couple other providers who give viewers access to television shows on their mobile devices, as well.
Second Screen Technology
5.) Second screen refers to using a tablet (a second screen) to enhance the content viewed on the TV screen. This works by using a digital fingerprint that tells the tablet what show you're watching which "broadcasts" additional content to your second screen. Television shows using this technology include "Grey's Anatomy" and the Academy Awards. Social screen technology may even be coming to "American Idol" next year, according to Mashable.com.
What ways have you experienced social television. Leave your experiences in the comments.
Photo by Flickr user dennis crowley
Related articles