I don't often write about the SPAM messages I receive.  I do get a lot of SPAM and its becoming increasingly unimaginative.
However, this morning, my Pebble buzzed away a few times with Calendar invitations and reminders that I had no clue what, or why they were.
I got Google Calendar SPAM!
It is kind of clever, I suppose.   Your Calendar doesn't have a filter, after all.  All your email sees is an event invitation from someone, so it'll not worry about it too much.
Have you got one of these yet?
What do you think? Is it another way of usurping our filters?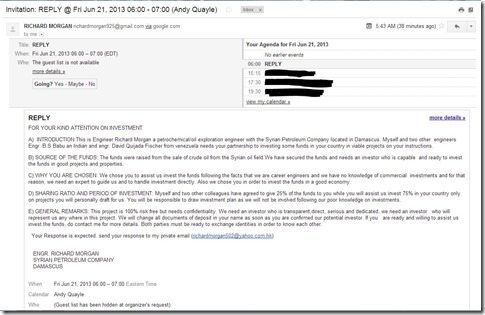 FOR YOUR KIND ATTENTION ON INVESTMENT

A) INTRODUCTION:This is Engineer Richard Morgan a petrochemical/oil exploration engineer with the Syrian Petroleum Company located in Damascus. Myself and two other engineers Engr. B.S Babu an Indian and engr. David Quijada Fischer from venezuela needs your partnership to investing some funds in your country in viable projects on your instructions.

B) SOURCE OF THE FUNDS: The funds were raised from the sale of crude oil from the Syrian oil field.We have secured the funds and needs an investor who is capable and ready to invest the funds in good projects and properties.

C) WHY YOU ARE CHOSEN: We chose you to assist us invest the funds following the facts that we are career engineers and we have no knowledge of commercial investments and for that reason, we need an expert to guide us and to handle investment directly. Also we chose you in order to invest the funds in a good economy.

D) SHARING RATIO AND PERIOD OF INVESTMENT: Myself and two other colleagues have agreed to give 25% of the funds to you while you will assist us invest 75% in your country only on projects you will personally draft for us. You will be responsible to draw investment plan as we will not be involved following our poor knowledge on investments.

E) GENERAL REMARKS: This project is 100% risk free but needs confidentiality. We need an investor who is transparent,direct, serious and dedicated. we need an investor who will represent us any where in this project. We will change all documents of deposit in your name as soon as you are confirmed our potential investor. If you are ready and willing to assist us invest the funds, do contact me for more details. Both parties must be ready to exchange identities in order to know each other.

Your Response is expected. send your response to my private email (richardmorgan502@yahoo.com.hk)

ENGR. RICHARD MORGAN
SYRIAN PETROLEUM COMPANY
DAMASCUS