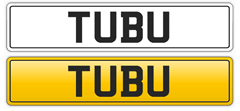 I wish that the Pennsylvania Department of Transportation had a site as cool as this!
Stumbling across this site is actually kind of funny – I ordered a custom license plate for my car and it arrived in the mail yesterday.   PENNDOT doesn't make it as easy as legalshowplates.com does for residents in the UK.
Simple. Just enter your desired vehicle registration in the box and see how your plate looks. Pick whether you want a front, or rear plate. Pick the font, border, colours etc. and but it.
You can't beat i t really – for just £10.50 from a DVLA (Driver & Vehicle Licensing Agency) Approved Number Plate Supplier.
The site is quite impressive too. It is just one, simple, informative page – pre shopping cart – that gives you everything you need to know and does everything you need it to do.
So – if you're in the United Kingdom and want to add a little something to your car, check out LegalShowPlates.com