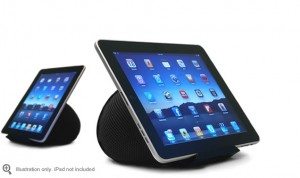 It's always a pain trying to watch movies or YouTube Clips on your tablet while holding it. Your arms get tired, speakers get blocked by your hands, the tablet heats up. Then if you set a hot tablet on your lap, you will regret that for a few minutes. Maybe you went and picked up a tablet holder, but they are limited in their viewing angles. The iProp solves those problems. Not only does it give you a rigid platform to hold your tablet, but with the pellet filled base, you have infinent viewing angles.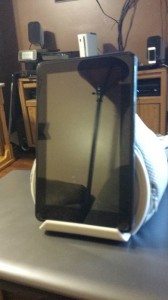 As you can see in the pictures they iProp works with multiple tablets. The base and backing of the tablet holder is made of a rigid yet flexible plastic that has a soft texture to keep your tablet from getting scratched or marred when used. The bracket that holds the tablet is attached to the adjustable bag with 4 rivets.
The bag has a zipper that houses a pouch that is filled with small styrofoam pellets. This is what gives the iProp unlimited viewing angles. This is also what makes the iProp unique. The flexible base works and not only tables and flat surfaces, but also on your lap, and other uneven surfaces.
The iProp will hold your tablet in both vertical and horizontal views. The base also has an opening that allows for charging of some tablets.
Overall the iProp works great as a tablet stand. With the ability to work on both flat and uneven surfaces, and a soft feel to keep from damaging your device, why wouldn't you want one.
The iProp comes in both Black and Silver and costs $29.95 USD plus shipping from Dockem.com