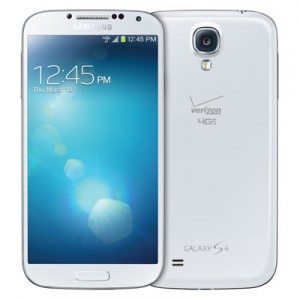 One of the biggest phone releases this year was arguably the Samsung Galaxy S4. But is all the hype really worth it? Lets dive in and take a look.
The  Galaxy S4 is the latest is the Galaxy line of devices from Samsung. The Galaxy S4 combines a 5 inch screen with a Snapdragon Processor gives Android fans just what they want.
The screen on the Galaxy S4  is 5 inches and carries a resolution of 1080 x 1920. This in one of the best resolutions you can get on a cell phone up to this date. Also the 5 inch screen is one of the larger screens available. This is great for movie watching, and using the Kindle Fire app. The ppi (pixel per inch)  is also 441 which makes for a viewing experience that is nearly unrivaled.  The screen is capable of multi-touch and has a light sensor for auto light adjustment for the back light. There is also a proximity sensor for various Android functions and also for when on the phone is in use so you don't bump buttons with your cheek.
The Galaxy S4 is powered by a Snapdragon 600 Quad Core Processor. This processor has the power to keep your smart phone going with no lags and helps power the split screen ability of the S4. The Processor is clocked to 1900 MHz. The phone is packed with 2 GB of RAM so you don't have to worry about space with your phone running slow. The internal usable storage is  16GB or 32 GB depending which version you purchase.  You can also use a microSD card to expand your memory up to an additional 64GB which could bring your storage up to a total of 96GB.
The battery in the S4 is  2600 mAh and according to Samsung lets the power flow for up too 17 hours of 3G talk time. In practical every day use, I could get between 8-10 hours of life. That is on mixed 4G data and Wi-Fi. You can charge the battery either through the micoUSB cable that is included with the phone, or with wireless charging. The wireless charging is an options that you can purchase the charging base from Verizon or other 3rd party sellers.
The Galaxy S4 has a 13MP camera for taking great pictures on the go. The camera features auto focus, touch to focus, smile and face detection, HDR, panorama, and voice activation. This camcorder of the S4 gives you HD recording resolution of 1920 x 1080 at a rate of 30 FPS.  There is also a front facing camera that is 2MP. The front facing camera works great for video chatting and event taking "selfies".
Other options that the Galaxy S4 has is HDMI out through the microUSB, NFC, Side by side screen, Wireless Charging, LTE data, GPS, The ability to customise your home screen with either the Android experience you are used to, or Simple View which gives you larger home screen icons that make the touch. WatchON, which lets you use your Galaxy S4 to change channels on your TV. You can even get a customised TV  guide directly on your phone.
If you are an Android fan and prefer a larger screen, you will most likely fall in love with this phone. If you are an Apple fan, you may even like this phone, it's just that good.