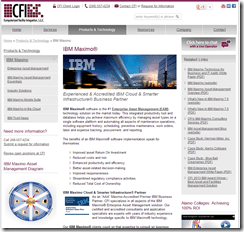 CFI (Computerized Facility Integration, LLC), based in Michigan, Chicago, New York, and the UK (already impressive), work closely with real estate and facility management to utilize technologies to increase effectiveness and decrease ROI through cohesive, best practice use of technology.
ok, so that's a lot of long, complicated words that can just about describe and technology company. What does CFI really do though?
Let's take cloud hosting, for example – Healthcare facilities need for their applications to be available 24/7 and then some.   These applications need to be available on a stable, secure, state of the art infrastructure.
CFI hosts applications in cloud datacenters, securely, and efficiently, keeping up with, and exceeding all of the healthcare certifications and expectations.
CFI guides you, from the initial consultation through the implementation, usage and support of your ideal solution.
How about support?  There's a lot involved certain applications and the systems that they live on.   It is often simply not cost effective to have you, or have any in-house tech team specialize in both the software and hardware that keeps your company or organization running. CFI has bundled support services – ready to go, whenever you need them.
CFI even has remote staff in 20 cities all over the United States.
CFI is a "AAA" Maximo-Accredited Premier IBM Business Partner.
What is IBM Maximo?  It's a complete asset tracking solution.
Every item in your business needs to be tracked, maintained, updated, upgraded, and more.  Maximo, hosted in the CFI Cloud, reduces your costs, improves your responsiveness, and streamlines compliance, across the board, with all of your equipment.
Check out this video and learn a little more about CFI, what they do and how they do it.
Learn more about CFI here