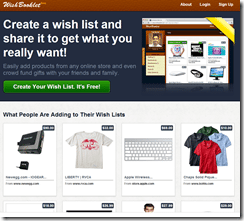 There's a lot of crowdfunding online these days.  A lot of it is for projects, startups, general ideas and more. Not a lot of it has an every day purpose though.
I was impressed when I saw WishBooklet – it's a crowdfunding site for gifts!
Here's what the folks at WishBooklet have to say:
WishBooklet is an easy way to share what you want with your friends and family and get them to pitch in to get it for you. Think of it as wish listing meets crowdfunding.

On WishBooklet you can easily add items from any online store and crowdfund gifts with your friends and family. WishBooklet allows multiple people to crowdfund a gift or just a single individual to purchase a gift. Create wish lists and crowdfund gifts today!

Currently there is no online solution for getting friends and family to pitch in and buy you the gifts you actually want. The majority of Wishlist sites online only allow one person to buy a certain gift, there is no social aspect that allows your friend and family to crowdfund gifts. All of the crowdfunding sites focus on raising money for some sort of cause, none of them focus on you raising money for your own material needs, as materialist as that sounds.
This is great! Imagine weddings, graduations, going to college etc.   Your friends and family from around the World can all pitch in and get that TV, Bed, or whatever else you needed from Ikea.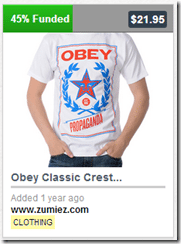 Similarly to Kickstarter and other crowdfunding sites, WishBooklet shows what you want, gives others an option to help fund it and shows what percentage funded said item is.
The site is currently in Beta but it really is a great start and a great idea.
You might actually see those big gifts that you add to your Christmas list if you give all of your family members a platform to donate a little to the cause.
There's a "Wish It" button too.   So, while you're perusing the web and see something you like, just hit your button and have that item directly added to your WishBooklet list.
I can see further applications though – I can see non-profits and similar organizations building lists of things they need to operate every day.
Check out WishBooklet and start building your lists.
Related articles