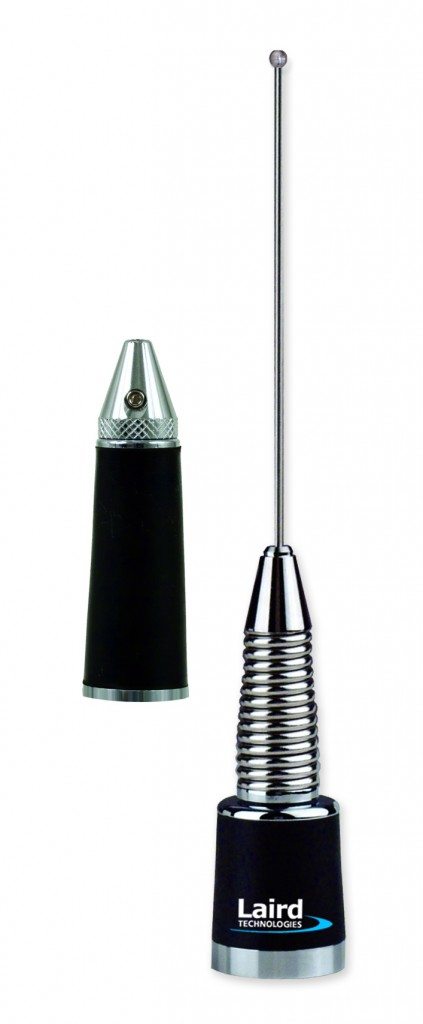 July 29, 2013 – Laird, a global technology company, announced the release of two new products for the public safety industry, a new UHF Wideband Antenna and an elastomer spring for mobile coil antennas.   These new products add to the variety of solutions Laird offers for police, fire, emergency and other first responders, as well as commercial 2-way radio users.
The B3803WS UHF Wideband Antenna is a high-performance mobile coil whip antenna. As a wideband antenna, it eases interoperability issues while still maintaining antenna performance. It features 3 dBi of gain and covers the full UHF band from 380 – 520 MHz, and it is also easily nstalled on a permanent NMO mount. The B3803WS requires no field tuning, resulting in a hassle-free setup. This antenna also features a special UV treated radome which resists sun damage and is ideal for use on vehicles in harsh environments.
The new elastomer spring provides increased flexibility and better shape retention due to its EPDM rubber body. It also reduces electronic and road
noise when compared to stainless steel springs. New mobile coil antennas can be ordered with the elastomer spring or the new spring can be ordered separately
and interchanged with Laird's stainless steel spring on any field-deployed antenna.
"Both of these solutions improve our product offerings for the public safety industry," said Rob Antonio, Laird Product Manager.  "Laird continues to deliver innovative antenna solutions that stand up to demanding environments without sacrificing the high quality standards our customers have come to rely on."
With world-class engineering and RF expertise, Laird continues to develop technologies and capabilities that make a wirelessly connected world possible. An industry leader in the design and manufacture of antennas for mobile devices and wireless data, Laird possesses end-to-end system knowledge and employs advanced, proprietary design tools to bring novel antenna designs to market. Antenna product offerings consists of Industrial Wireless, Telecom, Public Safety and Enterprise and Small Office antennas.  These antennas are ideal for use in the automotive, telematics, asset tracking, consumer electronics, handset and mobile devices industries.