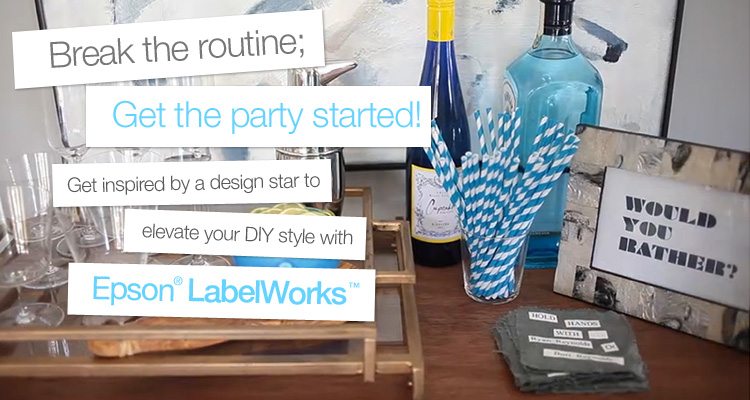 LONG BEACH, Calif. – Aug. 1, 2013 – Creating meaningful, inexpensive gifts for family and loved ones can definitely be a challenge. HGTV home style expert and prop stylist, Emily Henderson, offers her inventive expertise in her latest video, "How To Make Surprise Poppers." With the Epson® LabelWorks™ Printable Ribbon Kit, balloons, balloon holders, and balloon sticks, Emily shows how fun and simple it is to create this whimsical gift idea.
"Emily Henderson puts a modern twist to sending a message in a bottle, making it easy to create a special gift for friends, family and loved ones – whether it's a birthday, a graduation, or just because," said Kristi Lanzit, product manager, Epson America, Inc. "The new Surprise Poppers project created by Emily could also be used for creating fortune balloons for a dinner party, a baby gender announcement party, a marriage proposal, and many more creative ideas."
Epson invites everyone – spouses, parents, children, and others – to watch Emily's new video and be inspired. Think of all the endless creative possibilities and share ways the LabelWorks Printable Ribbon Kit can be used to express the special messages placed into the balloons. Visit Emily's and Epson's social media networks to share the different ways you would use Surprise Poppers.
More about Epson LabelWorks Printable Ribbon Kit
The Epson LabelWorks Printable Ribbon Kit features the portable, easy-to-use LabelWorks LW-300 and two satin ribbon cartridges – beige ribbon with black text and navy ribbon with gold text – in one convenient carrying case, giving DIYers and design enthusiasts the ability to create and print custom ribbons to add a personal touch to party favors, gift bags, holiday ornaments, scrapbooks, crafts, and more. There's a rainbow of optional ribbon colors to choose from, and the ability to store up to 30 favorite ribbon designs. Additionally, the versatile LabelWorks LW-300 is compatible with various tapes in traditional colors, as well as specialty colors and textures such as fluorescent, pearlized, plaid, glow-in-the-dark, and iron-on. It also offers a variety of fonts, styles, symbols, and frames, taking creative labeling and projects to a new level.
For more information about Epson's LabelWorks printers, visit www.epson.com/iheartlabelworks. For videos demonstrating various LabelWorks applications, visit Epson's YouTube channel.
About Emily Henderson
Growing up on the motto, "Why buy when you can make," Emily Henderson honed her skills on creating one-of-a-kind arts and crafts projects. From thrifting and reinventing old furniture into unique pieces, to prop styling with some of the best interior/still life and food photographers in the world for the best shelter magazines, catalogs, and advertisements, Emily knew she was born to style.
After winning season five of HGTV's "Design Star," Emily was later made host of her own show, "Secrets From a Stylist." She also currently runs a design firm in Los Angeles and a globally-known style blog for design enthusiasts. Additionally, she is a contributing editor for Huffington Post and Buzzfeed.
To learn more about this home style expert, please visit: www.stylebyemilyhenderson.com. You may also connect with Emily on Facebook (http://www.facebook.com/pages/Emily-Henderson/119002931510427), Twitter (http://twitter.com/em_henderson), YouTube (http://www.youtube.com/channel/UC7Emkys9TIv4Re-AazKyJ5Q), and Pinterest (http://pinterest.com/em_henderson).
About Epson
Epson is a global innovation leader whose product lineup ranges from inkjet printers and printing systems, 3LCD projectors and industrial robots to sensors and other microdevices. Dedicated to exceeding the vision of its customers worldwide, Epson delivers customer value based on compact, energy-saving, and high-precision technologies in markets spanning enterprise and the home to commerce and industry.
Led by the Japan-based Seiko Epson Corporation, the Epson Group comprises more than 68,000 employees in 96 companies around the world, and is proud of its ongoing contributions to the global environment and the communities in which it operates. Epson America, Inc. based in Long Beach, Calif. is Epson's regional headquarters for the U.S., Canada, and Latin America. To learn more about Epson, please visit: www.Epson.com.
You may also connect with Epson America on Facebook (http://www.facebook.com/EpsonAmerica), Twitter (http://twitter.com/EpsonAmerica) and (http://twitter.com/EpsonEducation) and YouTube (http://www.youtube.com/EpsonTV).