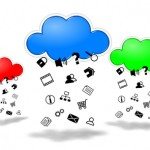 Even the best hard drive is subject to mechanical failure. People used to keep their memories in scrapbooks, photo albums, and knick knacks scattered about the house. These days, so many memories are digitized, losing a hard drive is like having a fire in the attic that takes out the family photos.
You might think you're covered with backups on SD cards, USB drives or external drives, but if a natural disaster destroys your computer, chances are good it's going to destroy all of the backups in that same physical location. Also, occurrences such as theft or loss of equipment aren't preventable. Online backup services are a perfect supplement for local backups, and this market is filled with user-friendly services that are as easy to use as a standard application. For more information about the basics of online backup, check out our previous post, and find three online backup services you can use to keep all of your data safe below.
LiveDrive
1.) LiveDrive is an automatic, cloud-based backup service that starts at $6 monthly. It works with both Mac and PC computers, and you can see files through a web browser, iOS and Android devices. LiveDrive has four tiers of service. The backup level works for most personal needs. This gives you automatic backup, file syncing and multi-platform accessibility. The Briefcase level is also good for personal users. You get two terabytes of storage and file syncing across all of your computers, and you can share files with friends or family. The Pro Suite and Business levels give you more storage space and additional features, such as backing multiple computers up. Read this LiveDrive review for more information.
Mozy
2.) Mozy is another popular option for online-based backup solutions. MozyHome provides both automatic and scheduled backups, local backup options, responsive technical support, file encryption, restoration methods, multi-platform support, and access to your files from any Internet-enabled device. MozyPro and MozyEnterprise expand on the basic service by adding server and network drive support, 24/7 support, a customizable domain, central backup administration, and key encryption. The Mozy services start at $14 monthly.
Carbonite
3.) The Carbonite backup service is geared for home users, the home office and small businesses. It provides automatic backup, and the $59 per year price costs less than many local backup applications. You aren't limited with backup space with Carbonite you have access to U.S.-based customer support your files are encrypted and kept secure at Carbonite's data centers, and you always have access to your backup files as long as you have an Internet connection. Carbonite makes it easy to recover files and get up and running after a disaster. The HomePlus and HomePremiere plans also allow you to keep local copies of your backup and even make an entire system image that restores your computer precisely the way it was when it was last backed up. Find out more at Carbonite's website.
Have you used any online backup services to keep your data safe? Which ones have worked for you, and which ones haven't? Share your story in the comments.
Related articles