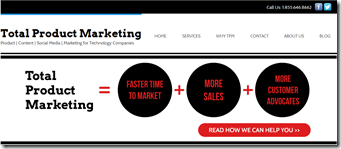 Vancouver based Total Product Marketing is a team of Marketing gurus who help companies with… well… pretty much ALL their marketing.
From marketing strategies through to Sales Support, Web Development and Public relations, TPM has all the tools take a load off you and your staff so that you can concentrate on more important tasks.
Ask yourself – Does your Marketing help you sell? Is it really doing anything for your company?
It's all well and good having a product – you may know your product inside and out, but do you know your markets?  How well do you know the buyers in those markets and what they want to hear?
If you don't reach market specific buyers, you're really not going to go far.
Something I always push my clients to do is to create content. Content shows authority, content draws visitors, content is important to any company or organization. However, it's not always easy to find the time (or frankly, the energy) to write and maintain your ideal content strategy – that's where TPM comes in.   TPM gets to know your business and helps you write your content in the best, most user friendly, accessible, SEO friendly, way possible.
There's so much more too!  A whole marketing campaign is too much to write in one post.
Get your free Marketing Position Review from Total Product Marketing