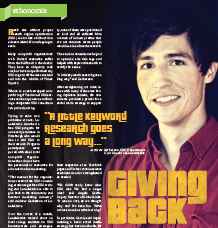 Andrew Garberson led up LunaMetrics' effort to offer free SEO consulting to local nonprofits.
A web site without proper search engine optimization (SEO) is a lot like a billboard on a desert island. No one's going to see it.
Many nonprofit organizations with limited resources suffer from the billboard in the desert. They have an obligatory web site, but have not performed any SEO to get it off the desert island and into the middle of Times Square.
Where is a cash-strapped nonprofit to go? Traditional SEO services can be expensive, and finding a competent SEO consultant can prove daunting.
Trying to solve two problems at once, LunaMetrics launched a free SEO program for university students in Pittsburgh who would like to add SEO to their resume. Program participants were paired with small local non-profit organizations that do not have the personnel or resources for advanced online marketing.
"That means that the organizations receive free SEO consulting, students get free SEO training and LunaMetrics is able to give back to the community and Internet marketing industry," said Andrew Garberson of LunaMetrics.
Over the course of a month, LunaMetrics trained about 20 local college students on SEO fundamentals and strategies. Students were then paired with local nonprofits, including Global Links, Penn Future, Homeless Children's Education Fund, and Community Technical Assistance Center.
According to Garberson, the nonprofits all suffered from similar SEO issues.
As organizations that rely on donations from the local community, none of them were positioned as local and all suffered from overuse of industry terms that are not common terms people would use in an Internet search.
The student consultants helped to optimize site title tags and helped with keyword research to rectify the issues.
"A little keyword research goes a long way," said Garberson.
After straightening out index issues with many of the sites having duplicate content, the consultants provided a primer for a social media strategy to support their respective sites. Facebook pages and Twitter accounts were established and/or strengthened as needed.
"We didn't really know what SEO was. We had a vague idea," said Angela Garcia, Deputy Director of Global Links. "It was no cost, so we thought why not? It's been fun. We're novices now, but we're learning."
In particular, Garcia said implementing a basic social media strategy has been invaluable for Global Links. "It really helped us to understand the right message for our audience," said Garcia.
Garbeson is excited by the results of the pilot program. He believes LunaMetrics will put on another session in spring 2014.
"The program went very well," said Garberson. "As a company, it's good to get out in the community."


Related articles