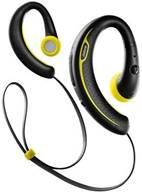 (Nashua, NH, August 22, 2013) – The first thing Jabra did before enhancing the latest version of the highly successful Jabra Sport was to approach a large group of athletes to find out what they would wish for in an ideal sports headset. The answer was clear: "Make a headset that won't get in the way when working out. Get rid of the wires, ensure it locks in firmly and most importantly, don't compromise on the sound quality." From this feedback, the Jabra Sport Wireless+ was born.
Without annoying wires, seven eargel design options to lock in securely, and a neck cable with a fit clip so comfortable it goes unnoticed while being worn, the Jabra Sport Wireless+ delivers outstanding wireless sound and a powerful bass response so that exercisers won't miss a beat while working out.
For those who don't want to carry their phone or Mp3 player while exercising, a built-in FM radio provides entertainment without any extra weight. Now the only excuse for not answering that call is being out of breath, as a simple tap of the headset and calls can be made and answered.
The Jabra Sport Wireless+ is built for the most extreme workouts, both weather- and sweat-proof and shock tested to military specifications. Dropped from a height of 1.5 meters, bent 5,000 times, and cable-tested using a 3kg force, the Jabra Sport Wireless+ is made to be used and abused.
"I love Jabra Sport for its sound quality, secure and comfortable fit and the rain, dust and shock protection," said five-time Ironman World Champion, Craig "Crowie" Alexander.  "Most of all I just like that my equipment works as hard as I do – it's all about performance."
Included with the purchase of the Jabra Sport Wireless+ is a voucher that offers a free three month subscription to Endomondo Premium, an online fitness universe with various workout-enhancing features such as a personalized training program so exercisers can take their workout to the next level.
Jabra Sport Wireless+ is available now at Verizon Wireless and Amazon for $99.99.
For more on Jabra, visit www.jabra.com, like us on Facebook at http://www.facebook.com/JabraUS or follow us on Twitter at http://twitter.com/jabra_us.
About Jabra
Jabra is the brand of GN Netcom, a subsidiary of GN Store Nord A/S (GN) – listed on NASDAQ OMX. Jabra employs approximately 900 people worldwide and in 2012 produced an annual revenue which amounted to DKK 2,355 million. Jabra is a world leader in the development, manufacturing, and marketing of a broad range of hands-free communications solutions. With a reputation for innovation, reliability, and ease of use that goes back more than two decades, Jabra's consumer and business divisions produce corded and wireless headsets, plus mobile and in-office speakerphones that empower individuals and businesses through increased freedom of movement, comfort, and functionality.
# # #
© 2013 GN Netcom A/S. All rights reserved. Jabra® is a registered trademark of GN Netcom A/S. All other trademarks included herein are the property of their respective owners. (Design and specifications subject to change without notice)