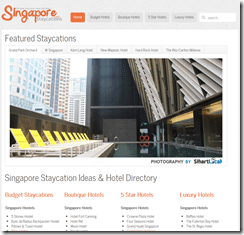 When I think of a "staycation", I think about taking some time away from work, hanging out at home and maybe doing touristy stuff close to where you live. Like a vacation but staying where you're at.
Interestingly though, there's a web site that is full of Singapore staycation ideas and it's not full of simple, free stuff to do around your house – Singapore hotels are  offering Staycation specials. They want to keep you close to home.
Why aren't more hotels doing this? Why aren't they promoting to their locale?
Every Christmas, as a family, we'd eat somewhere nice so that we can all hang out, relax and not have to do the dishes afterwards.   Shouldn't a vacation be the same way? Even if it is a Staycation.
Take a look at SingaporeStaycations.com, for example – a clean, simple site with tons of photos and videos.
Local reviews, local photos, local ideas buy…well…. locals.
The site is Facebook integrated, adding that community touch.   Attached to the growing list of hostels, hotels, boutiques and more there is a brief write-up, room and package prices, things to do nearby, links and more.
It's a simple site. Simple idea. Lots of potential.
Check it out – start one for your town or city.